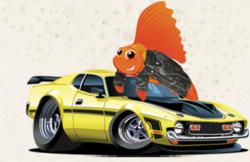 I like to think that this is the light at the end of a very long, dark, and frustrating economic tunnel.
Washington, DC (PRWEB) May 01, 2012
RoadFish.com men's lifestyle and finance magazine was happy to see the U.S. Department of Commerce's news release on Monday, stating that the according to the Bureau of Economic Analysis, personal income in the US increased $50.3 billion (or 0.4%) in the month of March. RoadFish.com feels that Americans are doing a good job of saving their earnings, scaling back on their spending habits, and perhaps even climbing out of debt and strengthening poor credit scores.
On Monday, the U.S. Department of Commerce publicized a news release with their most recent and up-to-date statistics on personal income and outlays for March 2012. Statistics showed that personal income jumped by 0.4%, or $50.3 billion overall in March. Likewise, disposable personal income (DPI) increased by 0.4% as well, or $42.5 billion. This is a jump from 0.1% in January and 0.2% in February. The report also showed that personal savings was up. In February, personal savings came in at $440.3 billion and in March, it jumped more than $10 billion to $450.4 billion.
Tiffany Hsu of the Los Angeles Times reported on Monday that the increase in American savings and income levels, and the decrease in spending, comes despite the fact that American paychecks are currently growing at a quick rate and that people are saving money at the gas pumps, as gas prices continue to fall. Hsu states that the jump in personal income marks the 28th consecutive month that income has increased, although it was actually still better than anticipated by economists.
RoadFish.com's Senior staff writer is quoted as saying, "I like to think that this is the light at the end of a very long, dark, and frustrating economic tunnel. It shows me that Americans are making smart spending and saving choices, and even though we all hope the worst is behind us, they're planning as though it's not. It's the old 'prepare for the worst but hope for the best' scenario, and I'm really proud of families for improving their personal finances. It's pretty much the smartest thing you can do these days, in my opinion."
The above-mentioned LA Times article reports that last week, the Federal Reserve even predicted a decrease in unemployment and modest economic growth for the US by the time 2013 rolls around. Don Lee of the LA Times reported on April 26th that the Federal Reserve had initially projected unemployment rates to fall between 8.2% and 8.5% in the fourth quarter. However, the latest numbers are suggesting that unemployment rates may actually be a big higher than that, 7.8%-8%. Last summer, unemployment was high at 9.1%, so the numbers that we're seeing this year indicate a steady rise in employment for Americans. Lee goes on to say that Federal officials claimed that the economy was "expanding moderately" after their two-day Washington meeting last week, and held strong that the unemployment rate would continue to drop.
RoadFish.com is encouraged at the positive statistics, and enthusiastic at the prospect of the economy growing and unemployment continuing to drop in the coming year. RoadFish.com's Senior staff writer is quoted as saying, "I am incredibly optimistic that the economy is making a comeback. I am very pleased to see American families taking responsibility for their financial situations, and working to save more and spend less. There's truly no better time for it."
Hsu's LA Times article closed with a quote from Commerce Secretary Rebecca Blank, who commented on the CEA's report by saying, "While the data are encouraging, we must continue to do everything possible to support American business and create jobs as we continue to heal from the worst recession since the Great Depression."
About RoadFish
RoadFish.com is an online men's lifestyle and finance magazine targeted toward men in their 30s and 40s that have already attained a moderate level of success in life, and are striving toward more. It goes over current events of interest to this group, such things as exciting adventures, making money, consumer interests, hot chicks, and the NBA Playoffs as well as ways to make more and save more money. It is a publication owned by Purpose Inc.
###