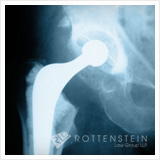 We hear daily from hip implant recipients who suffer from the DePuy ASR's alleged side effects.
(PRWEB) February 12, 2013
The Rottenstein Law Group continues to monitor with concern DePuy ASR news and has learned that in the ongoing trial in Los Angeles Superior Court jurors were shown emails from Johnson & Johnson's marketing department that indicated that the company knew of the hip implant's risks well in advance of the August 2010 DePuy hip recall.
According to Bloomberg,* Paul Berman, marketing director for Johnson & Johnson subsidiary DePuy, wrote in September 2009 that he intended to "reiterate my concern" over the safety of the ASR hip implant because of device failure and metal poisoning. This was about 11 months before the recall. Berman added that a majority of surgeons recommended discontinuing the ASR because of problems.
"More and more each day we are learning of the mounting evidence that suggests the alleged risks of the ASR were known early but not revealed to the public until too late," said Rochelle Rottenstein, principal of the Rottenstein Law Group, which manages a website designed to help those who believe they have suffered injuries get the latest hip replacement news and help them evaluate if they have a case. "We hear daily from implant recipients who suffer from the device's alleged side effects."
There are currently more than 10,000 lawsuits pending against Johnson and Johnson because of the ASR, but this case, In re: Loren Kransky and Sheryl Kransky v. DePuy, Inc., et al. (BC456086, Los Angeles Superior Court) is the first to go to trial. Johnson and Johnson subsidiary DePuy said at the time of the recall that the ASR hip replacement system has a 12 percent failure rate, but an Australian device registry found that failure rate to be closer to 40 percent, according to Bloomberg.
The Rottenstein Law Group is a DePuy ASR hip replacement law firm and is actively filing suits on behalf of recipients who believe they have suffered from serious side effects related to their implants.
*bloomberg.com/news/2013-02-11/j-j-s-marketer-e-mailed-hip-safety-concerns-before-recall-1-.html
About THE ROTTENSTEIN LAW GROUP
The Rottenstein Law Group is a New York-based firm that represents clients nationwide in mass tort actions. The firm was founded by Rochelle Rottenstein, who has more than two decades of experience as a lawyer, to represent clients hurt by defective medical devices. (Attorney advertising. Prior results do not guarantee a similar outcome.)
Contact:
The Rottenstein Law Group, LLP
Rochelle Rottenstein, Esq.
321 W. 44th Street
# 804
New York NY 10036
(212) 933-9500 (office phone)
(212) 933-9980 (facsimile)
rochelle (at) rotlaw (dot) com
http://www.rotlaw.com
http://www.depuyhiprecall.us