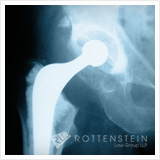 It is important that these allegations are thoroughly explored in court.
(PRWEB) January 31, 2013
The Rottenstein Law Group, which represents DePuy ASR recall clients, is closely monitoring the proceedings of the Los Angeles DePuy ASR hip trial (In re: Loren Kransky and Sheryl Kransky v. DePuy, Inc., et al., BC456086, Los Angeles Superior Court). Most recently, the jury heard testimony from a DePuy executive who denied that the recall occurred because the device was faulty. Andrew Ekdahl, president of Johnson & Johnson's DePuy, said in videotaped testimony that the 93,000 DePuy ASR hip implants were recalled worldwide because they did not meet the clinical needs of the market and not because they were unsafe," according to a Bloomberg story.
"Thousands of people believe they were harmed by the DePuy ASR," said Rochelle Rottenstein, principal of the Rottenstein Law Group. "It is important that these allegations are thoroughly explored in court."
Loren Kransky, 65, of North Dakota, alleges that the DePuy ASR caused him metal poisoning, among other problems, according to court records. DePuy asserts that Kransky's health problems are unrelated to his now-removed hip implant, according to Bloomberg. There are more than 10,000 DePuy ASR lawsuits pending across the United States, about 7,000 of which are consolidated for pretrial proceedings in multidistrict litigation in the United States District Court for the Northern District of Ohio (MDL-2197). About 33,000 people in the United States received the ASR implant, out of 93,000 worldwide, according to Bloomberg. The DePuy ASR recall occurred in 2010. Previous testimony** from witnesses suggested that DePuy knew of the ASR's faults several years before the recall.
For years, surgeons wrote to DePuy with complaints about the ASR's design, the jury also heard recently. According to Bloomberg, one surgeon wrote in December 2008 to say he had concerns about the design and failures "consistent with my concerns." Surgeons would install a metal cup into a hip and then a metal ball on top of the femur, which would rotate inside the cup. The surgeon said the cup was too small and had a design that creates sharp edges. DePuy acknowledged in 2008 that a redesign was needed, according to Bloomberg, formulating a plan called "Project Alpha" to address specifically the problem with metal poisoning and the related design issues. Ultimately, according to Bloomberg, the company decided against a redesign. The Rottenstein Law Group will continue to follow developments in this case.
The Rottenstein Law Group maintains a DePuy ASR Hip Recall Information Center that provides updates on the DePuy recall and information about the device's side effects and tips on the next steps in the process toward evaluating whether DePuy ASR hip replacement recipients should file lawsuits.
*bloomberg.com/news/2013-01-30/j-j-s-ekdahl-says-hips-recalled-because-of-clinical-needs.html
**bloomberg.com/news/2013-01-25/j-j-failed-to-warn-of-hip-implant-s-risks-jurors-told-1-.html
About THE ROTTENSTEIN LAW GROUP
The Rottenstein Law Group is a New York-based firm that represents clients nationwide in mass tort actions. The firm was founded by Rochelle Rottenstein, who has more than two decades of experience as a lawyer, to represent clients hurt by defective medical devices. (Attorney advertising. Prior results do not guarantee a similar outcome.)
Contact:
The Rottenstein Law Group, LLP
Rochelle Rottenstein, Esq.
321 W. 44th Street
# 804
New York NY 10036
(212) 933-9500 (office phone)
(212) 933-9980 (facsimile)
rochelle (at) rotlaw (dot) com
rotlaw.com
depuyhiprecall.us/
###