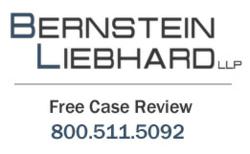 Court records show that DePuy Orthopaedics has already motioned for a new trial and a judgment notwithstanding the verdict in this case, both of which were rejected by the Court.
New York, New York (PRWEB) June 10, 2013
The nationwide law firm of Bernstein Liebhard LLP notes that DePuy Orthopaedics has filed a motion seeking to strike nearly all of the $1.83 million in costs sought by attorneys representing the Plaintiff in the nation's first trial stemming from the 2010 DePuy ASR recall. According to court documents, that DePuy ASR lawsuit trial ended in March, with a Los Angeles Superior Court jury awarding $8.26 million in damages to the Plaintiff, after finding that his metal-on-metal hip implant was defectively designed. (Kransky (Ellis) v. DePuy, et al., No. BC456086 (Los Angeles Super. Ct.))
"Court records show that DePuy Orthopaedics has already motioned for a new trial and a judgment notwithstanding the verdict in this case, both of which were rejected by the Court. The Court has ordered the parties to meet and confer on this latest motion by defendants to strike costs," says Bernstein Liebhard LLP, a nationwide law firm representing the victims of defective drugs and medical devices, including hundreds of clients in DePuy ASR lawsuits. The Firm continues to offer free legal evaluations to anyone who suffered serious complications associated with the DePuy ASR hip recall.
DePuy ASR Hip Lawsuits
More than 93,000 metal-on-metal hip implants were involved in the August 2010 DePuy ASR hip recall. According to the recall notice, the implants were pulled from the market after data from a British joint registry indicated they were failing in 12-13% of recipients within five years of their initial surgery.* Since then more than 10,000 DePuy ASR lawsuit claims have been filed in courts throughout the U.S., most of which are pending in the litigation underway in Ohio. Court documents indicate the first trials in that proceeding are scheduled to begin in October. (In re: DePuy Orthopaedics, Inc. ASR Hip Implant Products Liability Litigation – MDL 2197)
A second DePuy ASR lawsuit trial that concluded in April in Illinois state court resulted in a finding for Johnson & Johnson and its DePuy unit. According to an April 16th report from The New York Times, documents submitted as evidence in both the Los Angeles and California trials indicated that the Defendants knew that the device was flawed years before the DePuy ASR recall was announced, but did not disclose this information to the public or the medical community.**
Bernstein Liebhard LLP is actively filing DePuy ASR lawsuits in the federal litigation now underway in Ohio. Alleged victims of metallosis, premature device failure or other complications allegedly related to the DePuy ASR hip recall may be entitled to compensation for their medical bills, lost wages, pain and suffering, and other damages. A wealth of information regarding DePuy ASR lawsuits is available on Bernstein Liebhard LLP's website. For a free case review, please contact one of our attorneys by calling 800-511-5092
*asrrecall.depuy.com/depuy-asr-recall-usen
**nytimes.com/2013/04/17/business/johnson-johnson-wins-case-on-artificial-hip.html?ref=health&_r=0
About Bernstein Liebhard LLP
Bernstein Liebhard LLP is a New York-based law firm exclusively representing injured persons in complex individual and class action lawsuits nationwide since 1993, including those who have been harmed by dangerous drugs, defective medical devices and consumer products. The firm has been named by The National Law Journal to the "Plaintiffs' Hot List," recognizing the top plaintiffs' firms in the country, for the past 10 consecutive years.
Bernstein Liebhard LLP
10 East 40th Street
New York, New York 10016
800-511-5092
ATTORNEY ADVERTISING. © 2013 Bernstein Liebhard LLP. The law firm responsible for this advertisement is Bernstein Liebhard LLP, 10 East 40th Street, New York, New York 10016, (212) 779-1414. Prior results do not guarantee or predict a similar outcome with respect to any future matter.
###
Contact Information:
Felecia L. Stern, Esq.
Bernstein Liebhard LLP
info(at)consumerinjurylawyers(dot)com
http://www.consumerinjurylawyers.com