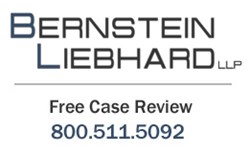 Our Firm is currently working with hundreds of individuals who allegedly experienced side effects after receiving the DePuy ASR metal-on-metal hip device.
New York, NY (PRWEB) February 18, 2014
Federal DePuy ASR hip lawsuits (http://www.consumerinjurylawyers.com/DePuy/) are continuing to move forward in the U.S. District Court, Northern District of Ohio, with the filing of a recent Motion by plaintiffs in the litigation, Bernstein Liebhard LLP reports.
According to a recent Order, the Court is scheduled to hear oral arguments later this month pertaining to a recent Motion to Modify the Common Benefit Order, Amended CMO No. 13. The meeting will take place on February 26, 2014 at 9:00 a.m. in West Palm Beach, Florida, the document states, and objections to the Motion must be filed with the Court no later than February 21, 2014 at 5:00 p.m. Court documents indicate that over 8,500 cases over the now-recalled DePuy ASR metal hip replacement are now pending in the Ohio federal court proceeding. (In re: DePuy Orthopaedics, Inc. ASR Hip Implant Products Liability Litigation – MDL 2197)
"Our Firm is currently working with hundreds of individuals who allegedly experienced pain, symptoms associated with metallosis and other side effects after receiving the DePuy ASR metal-on-metal hip device, so we are obviously pleased to see further progress in this litigation," says Bernstein Liebhard LLP, a nationwide law firm representing individuals injured by defective drugs and medical devices. Right now, the Firm is offering free and confidential case reviews to individuals who may have been injured as a result of the ASR hip.
DePuy ASR Settlement
Court documents indicate that thousands of the DePuy ASR hip lawsuits now pending in the Northern District of Ohio may be affected by a settlement proposed on November 19, 2013. According to the agreement, plaintiffs who underwent revision surgeries to remove and replace the metal-on-metal hip prior to August 31, 2013 may be eligible to receive a base award of $250,000. Certain factors, including their prior medical history, may cause this amount to be reduced, however, while others may result in larger awards from Johnson & Johnson & DePuy Orthopaedics. According to the Court, plaintiffs who underwent multiple revision surgeries, or experienced "certain extraordinary injuries" in the future may receive a supplemental award.
Court records indicate that the final deadline for participating in the DePuy ASR settlement, which must be accepted by 94% of eligible claimants in order for an agreement to be reached, is April 1, 2014. According to a New York Times report from November, the proposed agreement may resolve 8,000 of the 12,000 claims filed against Johnson & Johnson and DePuy if is accepted.*
Individuals who may have been injured by the DePuy ASR metal-on-metal hip replacement, which was recalled in August 2010, may be eligible to file a lawsuit against its manufacturer. To learn more about filing a lawsuit against Johnson & Johnson and DePuy, visit our Firm's website. You may also speak with an attorney at Bernstein Liebhard LLP to obtain a free and confidential review of your case at 800-511-5092.
*nytimes.com/2013/11/20/business/johnson-johnson-to-offer-2-5-billion-hip-device-settlement.html?_r=0, New York Times, November 19, 2013
About Bernstein Liebhard LLP
Bernstein Liebhard LLP is a New York-based law firm exclusively representing injured persons in complex individual and class action lawsuits nationwide since 1993, including those who have been harmed by dangerous drugs, defective medical devices and consumer products. The firm has been named by The National Law Journal to the
"Plaintiffs' Hot List," recognizing the top plaintiffs' firms in the country, for the past 11 consecutive years.
Bernstein Liebhard LLP
10 East 40th Street
New York, New York 10016
800-511-5092
ATTORNEY ADVERTISING. © 2014 Bernstein Liebhard LLP. The law firm responsible for this
advertisement is Bernstein Liebhard LLP, 10 East 40th Street, New York, New York 10016, 800-511-5092. Prior results do not guarantee or predict a similar outcome with respect to any future matter.
Contact Information:
Felecia L. Stern, Esq.
Bernstein Liebhard LLP
info(at)consumerinjurylawyers(dot)com
http://www.consumerinjurylawyers.com
https://plus.google.com/115936073311125306742?rel=author