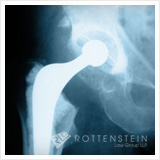 These are important developments for the plaintiff's counsel to explore.
Chicago, IL (PRWEB) April 04, 2013
A key DePuy ASR metal-on-metal hip implant designer testified on April 2 in an Illinois court that even though he believed the design process was thorough, he would not implant the device today.* The Rottenstein Law Group, a DePuy ASR law firm, responds to court documents that show Dr. Thomas P. Schmalzried, who was on the design team for the now-recalled ASR, was also on the design team for DePuy's Pinnacle, a hip implant often used during revision surgery to replace the ASR. The Rottenstein Law Group maintains the DePuy Recall News Center, which provides news and information on hip lawsuits and the DePuy hip joint recall.
Schmalzried was a defense witness for Johnson & Johnson subsidiary DePuy Orthopaedics, against which Carol Strum of Illinois filed suit (In Re DePuy ASR Hip Litigation, No. 10-L-10506, Cook County Circuit Court), alleging that she suffered from pain and disability as a result of receiving an ASR metal-on-metal hip replacement, according to Law 360.**
Schmalzried testified, according to Law 360, that he received at least $20 million in royalty payments from DePuy, both for his role in designing the ASR and for his role in implanting them in patients. He also testified that he had contributed intellectual property to the DePuy Pinnacle as well, so that he could potentially receive royalty income for implanting the ASR and for removing it and replacing it with a Pinnacle during revision surgery.
"These are important developments for the plaintiff's counsel to explore," said Rochelle Rottenstein, principal of the Rottenstein Law Group, commenting on what is the second DePuy ASR trial in the nation. "Carol Strum suffered from the ASR's serious alleged side effects, and based on Dr. Schmalzried's testimony his refusal to implant patients with a device he was involved in designing raises some serious questions about whether the ASR was ever fit to be sold and used."
The Rottenstein Law Group encourages hip implant recipients to download an informational brochure from its website to learn more about DePuy ASR lawsuits and to speak with a DePuy hip lawyer.
The first trials in the federal multidistrict litigation (MDL-2197, U.S. District Court for the Northern District of Ohio) are set to begin later this year, according to the New York Times.*** DePuy recalled the ASR in August 2010.
*law360.com/productliability/articles/429627/depuy-hip-developer-says-he-wouldn-t-use-implant
**law360.com/articles/428423/husband-recounts-constant-pain-at-depuy-hip-implant-trial
***nytimes.com/2013/03/09/business/johnson-johnson-must-pay-in-first-hip-implant-case.html?_r=1&
About THE ROTTENSTEIN LAW GROUP
The Rottenstein Law Group is a New York-based firm that represents clients nationwide in mass tort actions. The firm was founded by Rochelle Rottenstein, who has more than two decades of experience as a lawyer, to represent clients hurt by defective medical devices and medications. (Attorney advertising. Prior results do not guarantee a similar outcome.)
Contact:
The Rottenstein Law Group, LLP
Rochelle Rottenstein, Esq.
321 W. 44th Street
# 804
New York NY 10036
(212) 933-9500 (office phone)
(212) 933-9980 (facsimile)
rochelle (at) rotlaw (dot) com
http://www.rotlaw.com