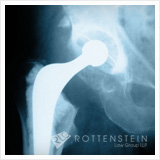 Chicago, Ill. (PRWEB) April 15, 2013
Closing arguments are concluding this week in the nation's second DePuy ASR trial.* The lawyer for plaintiff Carol Strum argued in a Chicago court that Johnson & Johnson's DePuy subsidiary marketed a hip with a defective design and should award Strum $5 million, according to Bloomberg. The Rottenstein Law Group, which represents clients in DePuy ASR lawsuits, notes that the verdict in the first trial in Los Angeles was more than $8 million.
"Two multimillion dollar damages awards would not necessarily indicate a trend," said Rochelle Rottenstein, principal of the Rottenstein Law Group. "However, it would show some sort of momentum toward awarding plaintiffs for the pain and suffering they've allegedly suffered as a result of their DePuy ASR hip implants."
According to court documents, the jury is expected to deliberate this week (Strum v. DePuy (2011-L-009352, Cook County [Ill.] Circuit Court)). As with the Los Angeles trial (Loren Kransky and Sheryl Kransky v. DePuy, Inc., et al. (BC456086, Los Angeles Superior Court)), which was the nation's first, the Chicago trial involves a state lawsuit. There are an additional 11,000 lawsuits pending against DePuy over the ASR across the nation in state and federal, according to Bloomberg. Analysts have said the lawsuits could cost Johnson & Johnson billions of dollars.
Strum, a 54-year-old Illinois nurse, alleges that DePuy failed to warn of the risks associated with the device's defective design, according to Bloomberg.** Strum's hip implant was installed in 2008 and replaced through revision surgery in 2011, according to Bloomberg. The ASR was recalled in August 2010.
The Rottenstein Law Group encourages hip implant recipients to download an informational brochure from its website to learn more about DePuy ASR lawsuits and to speak with a DePuy hip lawyer.
The first trials in the federal multidistrict litigation (MDL-2197, U.S. District Court for the Northern District of Ohio) are set to begin later this year, according to the New York Times. DePuy recalled the ASR in August 2010.***
*bloomberg.com/news/2013-04-15/j-j-jury-should-award-5-million-for-defective-hip-lawyer-says.html
**bloomberg.com/news/2013-03-11/j-j-faces-second-trial-over-recalled-hip-after-losing-first-case.html
***nytimes.com/2013/03/09/business/johnson-johnson-must-pay-in-first-hip-implant-case.html?_r=1&
About THE ROTTENSTEIN LAW GROUP
The Rottenstein Law Group is a New York-based firm that represents clients nationwide in mass tort actions. The firm was founded by Rochelle Rottenstein, who has more than two decades of experience as a lawyer, to represent clients hurt by defective medical devices and medications. (Attorney advertising. Prior results do not guarantee a similar outcome.)
Contact:
The Rottenstein Law Group, LLP
Rochelle Rottenstein, Esq.
321 W. 44th Street
# 804
New York NY 10036
(212) 933-9500 (office phone)
(212) 933-9980 (facsimile)
rochelle (at) rotlaw (dot) com
http://www.rotlaw.com