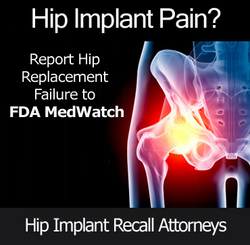 Its not just the DePuy ASR hip implant that demonstrates signs of being defective
Beverly Hills, CA (PRWEB) November 11, 2010
Due to the outpouring of hip replacement failure complaints against numerous hip implant manufacturers, Nagelberg Bernard Law Group is suggesting the lodging of grievances directly with the Food & Drug Administration (FDA) by filling out and submitting the Voluntary MedWatch 3500 Reporting Form.
Health professionals and hip replacement patients may submit reports of hip implant adverse events directly to the FDA via the MedWatch program. The FDA must be formally notified by a hip replacement patient or their doctor for a full investigation to be conducted. The organization is required by law to investigate every complaint filed by patients reporting medical device failure.
Hip recall lawyer, Larry Nagelberg said, "While our law firm has been investigating the DePuy hip replacement recall we have received an overwhelming response from patients who have suffered hip replacement failure from other manufacturers. Our investigators have identified several hip implant devices that demonstrate signs of being defective."
Follow these directions to file a complaint with the FDA:
1. Determine what type of hip implant you received. Gather all your medical records or request them from your orthopedic surgeon or the hospital where you received the surgery. By law you are entitled to a copy of your medical information.
2. File a complaint report through the FDA Med Watch program via the website, telephone, or by mail.

(https://www.accessdata.fda.gov/scripts/medwatch)

Telephone: 1-800-FDA-1088
Fax at 1-800-FDA-0178
3. Cooperate fully with FDA officials to ensure that a thorough and speedy investigation can get underway.
4. Contact your physician to determine if your hip replacement device may put you at risk for medical complications. Schedule a comprehensive diagnostic examination to find the cause of hip failure symptoms and plan an appropriate course of treatment.
Nagelberg Bernard Law Group is conducting a thorough independent investigation into defective medical device claims. In order for a product recall to be initiated, the FDA must acquire evidence that the device in question is defective or fails at an unacceptably high rate.
The hip recall lawyers at Nagelberg Bernard Law Group are filing lawsuits on behalf of hip replacement recall victims nationwide. If you or a loved one has suffered because of a defective hip replacement device, contact our hip recall attorneys to determine if you have a valid hip recall claim.
Legal Experts Are Available 24/7 to Provide Free & Confidential Legal Advice
CALL TOLL FREE: (800) 232-7070
# # #