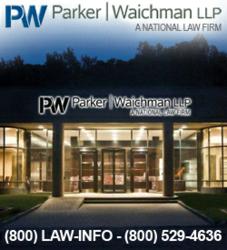 Throughout this trial, we've been hearing a steady stream of evidence showing that Johnson & Johnson didn't take the proper safety precautions in developing the DePuy ASR. This testimony further demonstrates that,
(PRWEB) February 04, 2013
Parker Waichman LLP, a national law firm dedicated to protecting the rights of victims injured by defective medical devices, is commenting on the most recent DePuy ASR trial developments reported by Bloomberg News. According to a Bloomberg report published on February 2nd, a witness' testimony suggests that Johnson & Johnson failed to analyze the risk of cobalt and chromium ions when designing the DePuy ASR hip implant. The all-metal hip replacements are considered one of the biggest medical failures in decades after 93,000 implants were recalled worldwide due to a high failure rate.
http://www.businessweek.com/news/2013-02-01/j-and-j-failed-to-weigh-risk-of-metal-debris-from-hips-witness-says#p2
"Throughout this trial, we've been hearing a steady stream of evidence showing that Johnson & Johnson didn't take the proper safety precautions in developing the DePuy ASR. This testimony further demonstrates that," said Daniel C. Burke, Senior Litigation Counsel at Parker Waichman LLP. The firm advises hip replacement patients to speak with their surgeons if they experience symptoms such as:

Pain
Swelling
Difficulty walking, or a change in your ability to walk
Popping, creaking, or other sounds emanating from the area of the implant
Metallosis, high levels of metal ions
Early failure, revision surgery
Parker Waichman LLP continues to offer free legal advice to patients implanted with the DePuy ASR and other metal-on-metal hip implants. One lawsuit, filed on behalf of a Florida man who had the ASR implanted in both hips, alleges that the implant caused elevated levels of chromium and cobalt (Case No. 1:12-dp-23372). The case, filed in the U.S. District Court for the Northern District of Ohio, Western Division, is just one example of the type of lawsuits that are being filed by the firm.
Bloomberg reports that last Friday, jurors in Los Angeles court heard testimony from Robert Harrison, a professor of medicine at the University of California, San Francisco; Harrison was testifying on behalf of Loren Kransky in the first of approximately 10,000 DePuy ASR lawsuits to go to trial. According to Harrison's testimony, DePuy should have studied the effects of metal ions released by the DePuy ASR XL before selling the implant in the United States in 2005. "I would have advised to do a very thorough and careful analysis of chromium and cobalt toxicity and the potential that this could be a problem from this particular hip design," Harrison stated. He said that, according to the California Poison Control System, cobalt levels higher than 7 micrograms per liter are dangerous. Kransky, who received the DePuy ASR in 2007, had a cobalt level of 53.6 as of September 1, 2011; nearly eight times higher than the acceptable level, Harrison pointed out. "The higher the dose, the greater the poisonous effect," he noted.
According to Bloomberg, Harrison stated that the metal can kill cells and poison tissues near the hip. The metal poisoning can also become a systemic problem as the ions circulate throughout the bloodstream, Harrison said. So far, Johnson & Johnson has insisted that Kransky's elevated ion levels are from his preexisting health problems. An attorney for the Defendants claimed that chromium and cobalt ions from the recalled ASR hip are "not poisonous." When asked about this assertion, Harrison disagreed, stating "It's just incorrect, plain and simple. It's incorrect to say that chromium and cobalt are not poisonous. They are toxic. We've known this for decades." After Kransky had his ASR hip replaced in a revision surgery, his cobalt levels dropped to 5 micrograms per liter.
For the first time, the U.S. Food and Drug Administration (FDA) advised metal ion testing for symptomatic patients with metal-on-metal hip implants. The agency also recommended regular physical examinations and diagnostic imaging, such as CT scans.
Bloomberg also reported that, after Harrison's testimony, questioning of DePuy engineer Graham Isaac resumed. Isaac was questioned about a series of emails from doctors who reported complications such as pain and early failure among DePuy ASR patients. David Beverland, a surgeon in Northern Ireland and personal friend of Isaac, wrote that "This ASR problem has to date been the worst problem I have had in my surgical career--it has been a real nightmare--I am still seeing at least one patient for revision at every problem clinic."
Parker Waichman LLP continues to offer free legal consultations to victims of metal-on-metal hip implant injuries. If you or a loved one experienced premature failure of your implant or other health problems associated with a metal-on-metal hip implant, please contact their office by visiting the firm's Defective Hip Implants page at yourlawyer.com. Free case evaluations are also available by calling 1 800 LAW INFO (1-800-529-4636).
Contact:
Parker Waichman LLP
Gary Falkowitz, Managing Attorney
(800) LAW-INFO
(800) 529-4636
http://www.yourlawyer.com