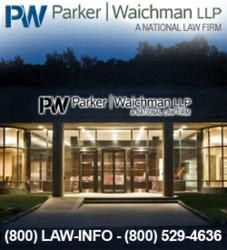 "This testimony helps support the thousands of lawsuits alleging that the DePuy ASR is defective and leads to complications such as early revision surgery and elevated metal ion levels." said Daniel C. Burke, Senior Litigation Counsel at Parker Waichman
(PRWEB) February 13, 2013
Parker Waichman LLP, a national law firm dedicated to protecting the rights of victims injured by defective medical devices, is continuing to monitor the developments of the first DePuy ASR trial currently taking place in Los Angeles state court. According to a Bloomberg Businessweek report published on February 12th, jurors heard the videotaped testimony of Thomas Schmalzried, lead surgeon and designer for Johnson & Johnson. When asked by Plaintiff's attorneys about the high failure rates of the DePuy ASR, Dr. Schmalzried testified that he would not have put the device on the market if knew it would fail as often as it did.
http://www.businessweek.com/news/2013-02-12/j-and-j-hips-surgeon-says-failure-rate-alters-view-on-device
"This testimony helps support the thousands of lawsuits alleging that the DePuy ASR is defective and leads to complications such as early revision surgery and elevated metal ion levels." said Daniel C. Burke, Senior Litigation Counsel at Parker Waichman LLP. Parker Waichman continues to offer free legal consultations to hip replacement patients implanted with the DePuy ASR, along with other all-metal hip devices. The firm advises hip replacement patients to speak with their surgeons if they experience symptoms such as:

Pain
Swelling
Difficulty walking, or a change in your ability to walk
Popping, creaking, or other sounds emanating from the area of the implant
Metallosis, high levels of metal ions
Early failure, revision surgery
According to the Bloomberg Businessweek article, Thomas Schmazried testified by videotape on Monday in Los Angeles state court. He was asked about an internal DePuy study indicating a failure rate of 35.8 percent in 4.57 years. When Johnson & Johnson first recalled 93,000 ASR implants in mid-2010, the company stated that the device was failing in 12 percent of patients within five years. Schmalzried said that he had implanted 66 ASR hip implants, 11 of which required revision surgeries. When asked by Plaintiff's attorneys whether or not he would have recommended the product knowing it would fail 20 percent of the time in four years, Schmalzried stated "I would not have put the product on the market."
Schmalzried testified in the trial Kransky v. DePuy, BC456086, California Superior Court, Los Angeles County. Plaintiff Loren Kransky is a 65-year old retired corrections officer who alleges that his DePuy ASR hip implant is defective. Of the 10,000 lawsuits that have been filed over the metal-on-metal hip implant, his is the first to go to trial. J&J has denied claims that the company defectively designed the hip implant and that is caused health problems in Kransky.
When asked about the level of metal ions that would raise health concerns in patients with all-metal hip replacements, Dr. Schmalzried testified that 2 parts per billion (ppb) would be the level. The United Kingdom's Medicines and Healthcare products Regulatory Agency (MHRA) currently recommends 7 ppb as a level that warrants further investigation. According to Bloomberg Businessweek, Kransky's lawyers state that his metal ion levels were 47 to 53 ppb prior to his revision surgery in February 2012.
Parker Waichman LLP continues to offer free legal consultations to victims of metal-on-metal hip implant injuries. If you or a loved one experienced premature failure of your implant or other health problems associated with a metal-on-metal hip implant, please contact their office by visiting the firm's Defective Hip Implants page at yourlawyer.com. Free case evaluations are also available by calling 1 800 LAW INFO (1-800-529-4636).
Contact:
Parker Waichman LLP
Gary Falkowitz, Managing Attorney
(800) LAW-INFO
(800) 529-4636
http://www.yourlawyer.com