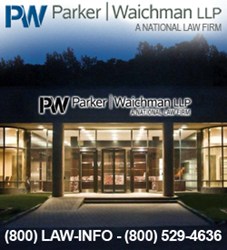 Considering the kinds of injuries these metal-on-metal hip implants are alleged to have caused, it is important that we continue moving forward.
(PRWEB) August 15, 2013
Parker Waichman LLP, a national law firm dedicated to protecting the rights of victims injured by defective medical devices, reports that, based on a document filed on Aug. 12, 2013, in the District Court, Northern District of Ohio, the Plaintiff in the first bellwether case in the lawsuit entitled: In Re DePuy Orthopaedics, Inc., ASR Hip Implant Products Liability Litigation (MDL 2197) has identified 95 witnesses who could be called to testify on her behalf. The trial is slated to begin on Sept. 9, 2013 (McCracken v. DePuy Orthopaedics Inc., et al., Case No. 1:11-dp-20485).
Plaintiff Ann McCracken was implanted with the DePuy ASR metal hip on or around Aug. 24, 2009, and alleges that, as a result of the procedure, she suffered and continues to suffer serious bodily injury and was forced to undergo revision surgery on or around Jan. 17, 2011, according to court documents. McCracken resides in Rochester, New York.
"Considering the kinds of injuries these metal-on-metal hip implants are alleged to have caused, it is important that we continue moving forward," said Daniel C. Burke, Senior Litigation Counsel at Parker Waichman LLP.
According to information posted on Jan. 17, 2013, by the U.S. Food and Drug Administration(FDA), those with metal hip implants may experience adverse events after surgery, including:

Hip dislocation, when the ball of the thighbone (femur) slips out of its socket in the hip bone (pelvis)
Bone fracture
Joint infection
Local nerve damage with numbness/weakness
Device loosening or breakage
Difference in leg lengths
Bone loss (osteolysis)
The FDA also noted that patients should be aware of potential symptoms that may occur three or more months after surgery, including:

Pain in the groin, hip or leg
Swelling at or near the hip joint
A limp or change in walking ability
Noise (popping, grinding, clicking or squeaking) from the hip joint
DePuy's ASR and other metal-on-metal hip implants were approved via the 510(k) route, which exempts devices from clinical testing as long as the manufacturers show that their product is similar to a previous device already on the market. The FDA reported on Jan. 18, 2013, that it was attempting to change the 510(k) approval process; the agency has proposed that all-metal hip replacements go through premarket approval, which would require device makers to prove that their products are safe and effective.
A March 8, 2013, Bloomberg article noted that Johnson & Johnson, DePuy's parent company, recalled 93,000 ASR hips in 2010, citing a failure rate of 12 percent in five years. In Australia, failure rates have exceeded 40 percent in seven years, Bloomberg reported.
Parker Waichman LLP continues to offer free legal consultations to victims of injuries allegedly caused by DePuy ASR and other metal-on-metal hip implants. If you or a loved one experienced premature failure of your implant or other health problems associated with a recalled DePuy ASR hip implant or other metal-on-metal hip implant, please contact their office by visiting the firm's DePuy ASR hip implant injury page at yourlawyer.com. Free case evaluations are also available by calling 1 800 LAW INFO (1-800-529-4636).
Contact:
Parker Waichman LLP
Gary Falkowitz, Managing Attorney
(800) LAW-INFO
(800) 529-4636
yourlawyer.com