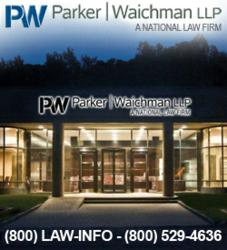 New York, NY (PRWEB) February 16, 2013
Parker Waichman LLP, a national law firm dedicated to protecting the rights of victims injured by defective medical devices, is continuing to monitor the latest developments in the DePuy ASR trial currently underway in Los Angeles state court. According to a Bloomberg.com article published on February 14th, the boss of a top marketing executive at Johnson & Johnson's DePuy Orthopaedics unit, Randall Kilburn, testified that he spoke to marketing executive, Paul Berman, following Berman's March 14, 2010 email in which he discussed his concerns over DePuy's ASR device.
"These emails, along with the other evidence that has come to light during this trial, suggest that Johnson & Johnson knew there were safety problems with the DePuy ASR long before it was recalled," said Daniel C. Burke, Senior Litigation Counsel at Parker Waichman LLP. Parker Waichman continues to offer free legal consultations to hip replacement patients implanted with the DePuy ASR, along with other all-metal hip devices. The firm advises hip replacement patients to speak with their surgeons if they experience symptoms such as:

Pain
Swelling
Difficulty walking, or a change in your ability to walk
Popping, creaking, or other sounds emanating from the area of the implant
Metallosis, high levels of metal ions
Early failure, revision surgery
According to the Bloomberg.com reports, jurors saw several emails and heard testimony from DePuy marketers and other executives this week during the trial of Loren Kransky, a 65-year old retired corrections officer who is suing the device maker over his allegedly defective DePuy ASR hip. Kransky's lawsuit is the first of 10,000 to go to trial (Kransky v. DePuy, BC456086, California Superior Court, Los Angeles County).
Bloomberg.com reports that Randall Kilburn, the boss of Paul Berman, director of marketing at DePuy, was aware of Berman's concerns over DePuy's ASR and had read an email in which Berman wrote that he had "an obligation as an employee of J&J and DePuy to make it known when I do not feel comfortable." Kilburn testified that he spoke to Berman after receiving the March 2010 email and discussed his concerns.
Johnson & Johnson recalled 93,000 ASR hip implants worldwide in August 2010. At the time, the company cited a failure rate of 12 percent within five years. More recent data from an Australian national registry suggested a failure rate upwards of 40 percent. Kransky's lawsuit, along with thousands of others, alleges that the all-metal hip implant caused injuries by releasing high levels of cobalt and chromium ions. According to Bloomberg News, Kransky was implanted with the ASR in 2007 and underwent revision surgery last February to remove the device. Dr. Thomas Trotsky, who is Kransky's physician, testified that, "I was convinced that Mr. Kransky would die from toxicity if the hip wasn't removed,"
The U.S. Food and Drug Administration (FDA) recently issued new guidelines for patients implanted with metal-on-metal hip implants. For the first time, the agency recommended metal ion testing for patients who experience symptoms of complications. The FDA also advised physical examinations and diagnostic imaging.
Parker Waichman LLP continues to offer free legal consultations to victims of metal-on-metal hip implant injuries. If you or a loved one experienced premature failure of your implant or other health problems associated with a metal-on-metal hip implant, please contact their office by visiting the firm's Defective Hip Implants page at yourlawyer.com. Free case evaluations are also available by calling 1 800 LAW INFO (1-800-529-4636).
Contact:
Parker Waichman LLP
Gary Falkowitz, Managing Attorney
(800) LAW-INFO
(800) 529-4636
http://www.yourlawyer.com