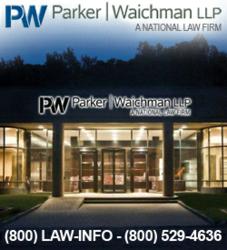 New York, New York (PRWEB) February 21, 2013
Parker Waichman LLP, a national law firm dedicated to protecting the rights of victims injured by defective medical devices, is offering commentary on recent developments in the first DePuy ASR trial currently underway in Los Angeles state court. In an article published on February 21st, Bloomberg reports that David Floyd, the former president of Johnson & Johnson's DePuy unit, recently testified in the case of Kransky v. DePuy, BC456086, California Superior Court, Los Angeles County. Loren Kransky is suing over his recalled DePuy ASR hip implant, which allegedly caused a number of serious complications forcing him to undergo revision surgery.
"While Floyd testified that failure rates should not be higher than 1 percent a year, the ASR has been shown to have revision rates much higher than that," said Daniel C. Burke, Senior Litigation Counsel at Parker Waichman LLP. "When this information came to light, DePuy decided to place the blame on surgeons instead of taking responsibility for their own design." Parker Waichman LLP continues to offer free legal consultations to hip replacement patients implanted with the DePuy ASR, along with other all-metal hip devices. The firm advises hip replacement patients to speak with their surgeons if they experience symptoms such as:

Pain
Swelling
Difficulty walking, or a change in your ability to walk
Popping, creaking, or other sounds emanating from the area of the implant
Metallosis, high levels of metal ions
Early failure, revision surgery
According to Bloomberg, Floyd testified that revision rates should not be higher than one percent in one year. He said that a failure rate of 10 percent "would be an unacceptably high failure rate at one year, but at 10 years, it would not be." When 93,000 ASR hips were recalled in 2010, Johnson & Johnson said that the metal-on-metal hip implants failed at a rate of 12 percent in five years. In Australia, failure rates have exceeded forty percent. The New York Times has referred to the recall as one of the biggest medical device failures in recent history.
Floyd, who served as president from September 2007 to March 2011, said that three surgeons complained of high revision rates in August 2008. He testified that DePuy attributed the issue to the way surgeons were implanting the device, stating that they have implanted the cup at an angle greater than 40 to 45 degrees. Attorneys for the Plaintiff, however, state that DePuy failed to test the cup at different angles. Furthermore, Plaintiff's attorneys allege, the company only tested one of several sizes.
Johnson & Johnson is faced with over 10,000 lawsuits in the United States alleging that the ASR is defective and caused injuries. The international recall has sparked concerns about the implant, as well as metal-on-metal hip implants as a class of medical devices. In addressing reports of high failure rates and complications associated with metal ion debris, the U.S. Food and Drug Administration (FDA) has issued new guidelines to patients implanted with the ASR and other all-metal hip replacements. Among other things, they advised that physicians conduct physical examinations, diagnostic imaging and metal ion tested as needed. The agency is also proposing stricter regulations that would require manufacturers to prove the implants are safe and effective before selling them. [https://s3.amazonaws.com/public-inspection.federalregister.gov/2013-01006.pdf
Parker Waichman LLP continues to offer free legal consultations to victims of metal-on-metal hip implant injuries. If you or a loved one experienced premature failure of your implant or other health problems associated with a metal-on-metal hip implant, please contact their office by visiting the firm's Defective Hip Implants page at yourlawyer.com. Free case evaluations are also available by calling 1 800 LAW INFO (1-800-529-4636).
Contact:
Parker Waichman LLP
Gary Falkowitz, Managing Attorney
(800) LAW-INFO
(800) 529-4636
http://www.yourlawyer.com