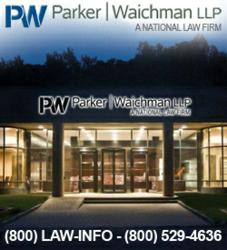 New York, New York (PRWEB) August 21, 2012
Parker Waichman LLP, a national law firm dedicated to protecting the legal rights of people injured by metal-on-metal hip replacement implants and other defective medical devices, reports that the DePuy Orthopaedics, Inc. Pinnacle Hip Implant Products Liability Litigation (MDL No. 2244) is moving towards its first trials. In a Case Management Order issued on August 14, 2012, U.S. District Judge James E. Kinkeade set deadlines to facilitate the scheduling of the first bellwether trial for September 1, 2014. Among other things, Judge Kinkeade ordered that depositions will begin in January 2013. Lawyers for plaintiffs and defendants must recommend 4-6 potential bellwether cases by September 2, 2013; and discovery for the first bellwether trial is to be completed by May 27, 2014.
According to court documents, more than 1,800 lawsuits are pending in the DePuy Pinnacle multidistrict litigation now underway in U.S. District Court for the Northern District of Texas before Judge Kinkeade. All of the lawsuits allege the metal-on-metal version of the DePuy Pinnacle hip implant caused recipients to suffer severe, painful complications, including:

Need for revision surgery
Formation of pseudotumors
Adverse local tissue reaction
Pain, swelling, and dislocation
Elevated levels of chromium and cobalt
Metallosis
The complaints further allege that the metal-on-metal version of the DePuy Pinnacle hip replacement device causes problems that are similar to those seen in patients who have received the DePuy ASR Hip Implant device, another metal-on-metal hip implant device, that was recalled in August 2010 due to an unexpectedly high number of premature device failures. Plaintiffs in DePuy Pinnacle hip implant lawsuits pending in the multidistrict litigation allege the metal-on-metal version of that device should have been recalled as well. According to Parker Waichman LLP, the bellwether trials in the federal litigation will help gauge how juries will rule in DePuy Pinnacle hip implant lawsuits that involve similar allegations.
Since the DePuy ASR Hip Implant recall, concerns have mounted that the entire class of metal-on-metal hip implants may put patients at risk for serious complications. This past February, the British Medical Journal alerted the public about potentially high levels of metallic ions released by all-metal hip implants. The following month, the authors of a study published in The Lancet called for a ban on the devices, after finding that metal-on-metal implants failed at a rate of 6 percent in five years, as opposed to the 1.7 to 2.3 percent seen in their plastic or ceramic equivalents. In July, a panel of U.S. Food & Drug Administration (FDA) advisors recommended that patients fitted with metal-on-metal hip implants be monitored via imaging tests and possibly blood screening for metal ions. Overall the panelists agreed there was no good reason for doctors to continue using metal-on-metal hip implant devices.
Parker Waichman LLP continues to offer free legal consultations to victims of DePuy Pinnacle and other metal-on-metal hip implant injuries. If you or a loved one experienced premature failure of your implant or other health problems associated with an all-metal DePuy Pinnacle Hip Implant or other metal-on-metal hip replacement device, please contact their office by visiting the firm's page at yourlawyer.com. Free case evaluations are also available by calling 1 800 LAW INFO (1-800-529-4636).
Contact:
Parker Waichman LLP
Gary Falkowitz, Managing Attorney
(800) LAW-INFO
(800) 529-4636
http://www.yourlawyer.com