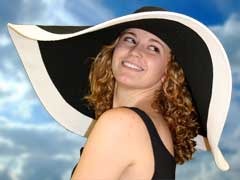 Wearing a hat to the derby is considered good luck and is a tradition that dates back over 100 years.
San Diego, CA (Vocus/PRWEB) March 30, 2011
Countdown to the derby has begun and Sungrubbies.com, an online retailer of sun protective products since 1997, is pleased to announce that they have expanded their selection of derby hats for this racing season. High fashion Derby hats from SunGrubbies.com are stylish and come with the added beauty bonus of providing sun protection to keep pretty faces looking young.
Wearing a hat to the derby is considered good luck and is a tradition that dates back over 100 years. And, a hat that makes a statement is essential and so is protection from damaging UV rays. Damaging UV rays are present even on cloudy days and cause premature aging and even dreaded skin cancer. The skin is the largest organ of the body and the sun is skin's greatest enemy. Every effort should be made to keep the skin healthy and vital.
The signature look at the derby is a large wide brim floppy hat usually made from a woven material. SunGrubbies.com has three strong contenders in this field: The Rebecca, the Scarlet and the Chloe. All three hats have large brims and offer optimum sun protection and style and are perfect for adding additional adornments if desired.
The goal of SunGrubbies.com is to help people enjoy a lifetime of good health by offering attractive and comfortable sun protective clothing and accessories of the highest quality and reliability. All of their products have been laboratory tested for their sun protective ability and many of their products are recommended and approved by The Skin Cancer Foundation, the Melanoma International Foundation and the Skin and Cancer Federation of Australia. Every purchase is 100% guaranteed.
For more information about their selection of derby hats and other sun protective products, check out their website at http://www.sungrubbies.com. They can also be reached toll free (888) 970-1600. SunGrubbies.com also has a boutique style showroom and hat shop if you are in the San Diego area.
###