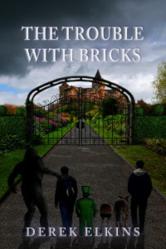 (PRWEB) October 11, 2012
"The Trouble with Bricks" by Derek Elkins is a modern-day parody that tells of real-life lessons. Reminiscent of the Alice in Wonderland, The Wizard of Oz and Monty Python, the books follows the story of Suzie Phipps, her brother Cleotus, and other odd characters as they go though unusual situations in an alternate reality and fantasy world.
The story begins when siblings Suzie Phipps and Cleotus meet an overweight fairy who transports them to a different dimension: a world of underwear trees, rivers of lard, and into the pages of The Trouble with Bricks. On their way to seek the wisdom of Mr. Wilson, CPA who is their only chance to return to their world, they meet and befriend a number of odd characters and hurdle challenges while dodging the malevolent evil presence of Bricks, a jazz player and deranged lunatic. The story unfolds with more interesting characters and situations as they find themselves getting closer to their goal but farther from reality.
The Trouble with Bricks is a 176-page book published by Bard and Book Publishing it is available in several ebook reading formats. For paying members of the Bard and Book community, there is a 100% Off Coupon that they can redeem at Smashwords. It is also available in Kindle edition on Amazon.
Derek Elkins is the first place winner of the Athanatos Christian Ministry 2012 Novel Contest for his book "Life Unworthy of Life". Other books that he has authored are "Bedlam's Door", "Three Conversations", "Amish Love Story", and "Layover". You can read more about the book and other works by Derek Elkins at the Bard and Book community.