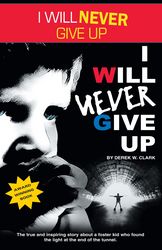 I Will Never Give Up
San Francisco Bay Area, Ca. (PRWEB) July 28, 2009 -
Derek Clark is the author of the critically acclaimed book series "I Will Never Give Up", "I Will Never Give Up For The Teenager" and "I Will Never Give Up On God Again". Derek came into this world unloved, abused and abandoned by his own mother and father. He was destined to be deleted from his own family. County records state that Derek's father brutally abused him the first six months of his life and then left. The dad was later found at Folsom State Prison for the criminally insane. Derek never knew his dad. At five years old Derek Clark's mother and stepfather turned him over to the county social services and kept his brother and sister. Derek felt he had been deleted from his family. Psychiatric reports stated that at the age of 5 years old, Derek had extreme behavioral problems, language difficulties and a fascination with violence, death and sex. Neurological reports stated that at six years old, he had the IQ of a two and a half year old. Having been misdiagnosed with Mental Retardation and Aretic Psychosis, Derek has defied the artificial limitations imposed upon him. Find out more about Derek's inspiring story at http://www.IWillNeverGiveUp.com
Today Derek Clark stands 6 foot, 5 inches and has a voice resonating with a singular passion due to a life of coping with adversity and overcoming hardship. His years have been colored by extremes of fear, humiliation, aggression, emotional distress and overwhelming anxiety and yet. The dire circumstances of his life have never been obstacles to him succeeding at those endeavors which he has aspired to.
As an Author, Inspirational Speaker and Singer/Songwriter, he now lives a life of happiness and peace sharing his message of hope with youth and adults all over the nation. His maxim is to make no excuses and become what you want to become. Read his books or attend one of his events, and not only will you be inspired by the words he speaks, but the music he both writes and performs. It is an event meant to embolden, enliven, and invigorate.
Hear Derek's latest autobiographical song "I Wanna Be a Kid" at http://www.IWillNeverGiveUp.com
Read what others are saying about Derek's books and events:
"I feel inspired! It made me feel relieved that I'm not the only one out there that has been hurt and that I'm not alone. I Loved It! He says that we can be whoever we want to be! He answered the question that has always bothered me, that I can be somebody."-Arianna B.
"When I sat there listening to you and your songs, it gave me a better outlook on my life. It made me realize that everyone can make something of themselves. Your story sent shivers up my back and from now on I will have a different perspective and will appreciate the love my family gives me. Thank you Derek for giving me that strength."-Jackie V.
"You showed me you can't change the past, but you can change the future. I felt inspired from your story because I never really had a role model. You showed me I can accomplish anything."-Carlos M.
"I Will Never Give Up" is an autobiographical book by Derek Clark that more than lived up to this reviewer's expectations. The emotional energy of this book is amazing stuff. It will cause the reader to experience great emotional lows and highs as we follow the neglect and abuse of a young man and his eventual rise above the past traumas to a place of true forgiveness. The book cannot help but touch some part of you in the process. The book's power comes into focus as you see the author beginning to fight back for control of his life." -W. H. McDonald Jr. from the American Author Association
###