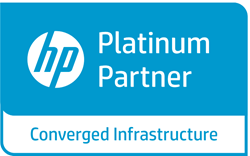 Derive has obtained 25 major certifications through 330 hours of study time, giving us extensive expertise in HP's Converged Infrastructure platform. This is essential to meeting the current and future needs of our clients. Kirit Desai, CEO
New York, New York (PRWEB) December 03, 2014
Derive Technologies is honored to announce that, as of Nov. 1, the company has earned HP PartnerOne Platinum Specialist Partner status for Converged Infrastructure. The coveted HP PartnerOne Platinum Specialist designation is the highest level of accreditation in the HP PartnerOne program.
Kirit Desai, Derive's Chief Executive Officer, says of his company's achievement, "Over the past year, Derive has invested in obtaining over 25 major certifications and accreditations, by way of more than 330 hours of study time, giving us extensive expertise in Converged Infrastructure."
Mr. Desai goes on to say that, "Comprehensive knowledge of HP technologies and services spanning from BladeSystem and virtualization, to HP Converged Storage, Converged Networking, and Cloud solutions, are essential to addressing current and future technology, business, and fiscal needs of our healthcare, government, financial services, and other professional services clients."
Derive's Vice President of Marketing, John Wood, echoes Mr. Desai's thoughts.
"Because of our strong commitment to HP," Mr. Wood says, "our clients in the New York/New Jersey Metro areas – and across the U.S. and worldwide – have confidence that, when they obtain solutions and products from Derive through our PartnerOne Platinum Specialist designation, they'll get the most progressive, cost-effective solutions, and the very best sales, service and technical support."
"HP business partners earning the Platinum Specialist designation have met the highest level of qualifications and demonstrated expertise in delivering the entire HP portfolio of enterprise solutions including servers, storage, networking, and technology services to companies looking to dramatically increase business innovation while reducing costs," said Jeremiah Jenson, vice president, Americas Enterprise Group channel sales, HP
Derive is also a HP PartnerOne Gold Specialist Partner for Server, ServiceOne Printing & Computing, and Storage, and a HP PartnerOne Silver Specialist Partner for Printing & Personal Systems Supplies.
About Derive Technologies
Derive Technologies, headquartered in New York, NY, with offices in Edison, NJ, has, for more than two decades, continued to design and deliver progressive business-technology solutions to meet the challenges of New York and New Jersey businesses, with a focus on on-going cost reduction. Derive's main practices surround converged infrastructure, including virtualization and cloud computing, storage, networking and security, leading with collaborative solutions developed with Hewlett-Packard, Microsoft, Cisco, Citrix, Apple, Symantec, VMware, Veeam Software and others, including industry-specific partners. The company's principal vertical market clients are in Healthcare, Government and the Public Sector, Financial Services, and Legal and other Professional Services.