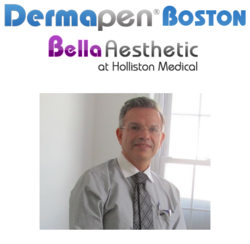 "I have been waiting for a solution such as DermaPen that has such a high success rate on so many conditions and that can be performed at a fraction of the cost, less pain, and less downtime of lasers.
Holliston, MA (PRWEB) November 28, 2012
Originally introduced in November of 2011 by Equipmed, Dermapen is a highly effective skin therapy procedure that involves microscopic needling to treat skin conditions such as removing fine lines, removing wrinkles, removing stretch marks, removing acne scars and wound scars, as well as general facial rejuvenation.
After five years as a surgeon, Dr. Goli, is now a Primary Care Physician and skincare expert. He has built his practice by continually introducing clients to forward-thinking treatments including skin treatments as well as others that provide optimal results at a value. This year, Dr. Goli ended 2012 with the announcement of an addition to his menu of services: The Dermapen.
With age, the production of cells, collagen and elastin naturally diminish, which can cause wrinkles, saggy skin and a hollowing effect. Through collagen induction therapy, the skin can be prompted to heal and repair itself. The Dermapen is being used more and more as an alternative to traditional facelifts and other surgical procedures, as it helps to reduce signs of aging, like saggy tired skin and uneven skin tone. "I have been waiting for a system such as DermaPen that has such a high success rate on so many conditions and that can be performed at a fraction of the cost of lasers. Every patient I have worked with has had their expectations surpassed!" explains Dr. Goli The great part of it is that you don't have to take my word for it, just this year DermaPen was Awarded at THE Aesthetic Show™ (TAS) 2012 by votes of aesthetic practices throughout the United States.
The Dermapen fractional micro delivery provides unparalleled collagen induction via fragmented delivery of needles into the epidermis and dermis. These micro injuries to the skin encourage and harness the power of the body's innate ability to re-grow and repair the skin through the physiology of collagen induction. The before and after's are typical of a series of treatments where patients experienced six treatments over the space of six months. Each treatment is done four weeks apart.
Dermapen offers a solution for all skin conditions that clients might seek treatment for: wrinkles and fine lines, acne scarring, stretch marks, wound healing stimulation, and skin tightening, lifting and rejuvenation. This means you can offer a broader range of treatments for your clients. Dermapen treatments complement other treatment options already offering clients, chemical peels, IPL, Micro-dermabrasion and laser skin tightening. This will greatly increase their effectiveness.
While Dermapen can be used to replace facial treatments like traditional plastic surgery and facelifts, it can also be used as a supplement to existing procedures such as PRP Facial treatments (sometimes called dracula therapy) in order to increase the effectiveness and absorption of products such anti-aging creams and serums. The benefits include skin tightening and lifting, improved appearance of wrinkles, fine lines, and stretch marks and minimized pore size. Overall, skin appears more refreshed, rejuvenated and replenished.
Goli jumped at the chance to partner with Equipmed and is the first licensed to offer Dermapen therapy in the Boston area. The treatment is packaged as part of Goli's SkinWellness program.
About Dr. Ali Goli
Dr. Ali Goli is a renowned skin care expert. With his uniquely innovative approach towards skin care, Ali helps patients achieve and maintain clear, glowing and radiant skin, making it easy to understand why some devotees call her "the healer". Goli's skincare philosophy is based on a belief that treatment is unique to each skin profile. The services offered in her Boston based offices are customized, and are provided only after a full skin analysis of each patient. He also travels the world to cater to clientele.