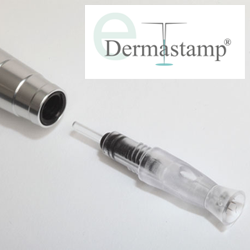 The eDermaStamp® is the only CE-approved medical device of its kind on the market today.
Los Angeles, CA (PRWEB) January 21, 2013
Once again, Dermaroller ® has created a product that leaps ahead of the competition. Now, with eDermaStamp®, trained professionals are able to mechanically treat patients' skin concerns more precisely and consistently, thanks to the patented technology behind the device. Stretch marks, in particular, respond well to treatment with eDermaStamp®.
Unique to this product is the patented EDS Driver Reservoir™. With this reservoir, Dermaroller's patented CIT Solution® (comprised of hyaluronic acid, minerals, vitamins, and peptides) can be applied in a steady flowing stream during treatment. This continuous delivery method guarantees the skin receives the right amount of solution with each treatment. The medical provider simply injects the CIT Solution ® into the reservoir before starting each procedure.
"The patented driver reservoir serves as a trans-dermal delivery method of approved drugs such as the Dermaroller CIT Solution®," says Phillip Terrazas, Director of Sales and Marketing for Cynergy, official U.S. distributor of The Original Dermaroller ®. "eDermaStamp ® is the only product on the market today with a driver reservoir system. That's important for patients to remember when seeking providers who offer Collagen Induction Therapy, or CIT."
Manufactured in Germany with state-of-the-art design and quality, eDermaStamp® is compact, and low in noise and vibration. Six fine-precision, medical-grade, stainless steel micro-needles cause minimal tissue trauma due to low levels of invasive penetration. New collagen is easily formed through eDermaStamp's gentle stimulation of skin cells. Repeated treatments improve epidermis thickness and transparency, reducing wrinkles and fine lines for a more youthful look.
eDermaStamp® places Dermaroller ® medical devices into an entirely different category when compared to others in the marketplace. It is the only CE-approved medical device on the market today, and is already proving its superiority in treating stretch marks and isolated acne scars. The Dermaroller CIT Solution® is approved and registered in the EU as a Class III Approved Drug.
Based in Germany, Dermaroller ® has been in the United States since 2003. The U.S. branch of the company, Dermaroller US, is the only skin micro-needling company with both a medical director and a pharmacist on staff to answer clinical questions. It also has a staff that supports, educates, and promotes the legal, proper, and most efficient and ethical way to use and apply skin micro-needling devices. Cynergy, LLC is the exclusive U.S. distributor of Dermaroller ®. For more information, please visit http://www.DermarollerUS.com, or contact Cynergy at 866-326-8412.