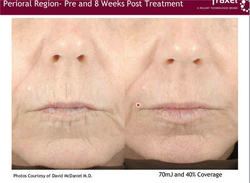 For a fast, simple and practically painless injection procedure, the benefits patients see from Botox are some of the most satisfying and predictable.
Orange County, CA (PRWEB) January 1, 2009
To find a solution to lip lines (also referred to as "smoker's lines"), Total Dermatology Medical Director Nissan Pilest has begun a study combining the use of Botox and Fraxel CO2 laser to address this difficult to treat problem. Many women in their 40's and beyond experience lip lines to varying degrees.
"Women tend to be more expressive in their speech and thus tend to be plagued by multiple lines radiating above and below the lips," announced Dr. Pilest. "Fraxel's new carbon dioxide laser has great promise in this area. We're using Botox as part of our Fraxel CO2 laser treatments to assure a smoother healing. Currently we're in active office clinical studies for erasing those hated vertical lipstick and smoker's lines above the lips using Botox as a 'prep' for laser resurfacing."
Botox relaxes the muscles that habitually purse in speech and thus should help the new collagen formation stay smooth during the healing process. Injected correctly, Botox can also help evert the lip border, providing the appearance of a fuller lip with a more evident restoration of the youthful cupid's bow.
Dr. Pilest, a Platinum Plus Botox provider and designated national training physician for Allergan's Botox and Juvederm products, says, "Given the option of only having a single tool in my dermatology bag, the one I would choose without a moment's hesitation is Botox. I've been heard to say Botox is magic many times and why do I say that? Simply because it is. Nothing so simple can produce the same kind of solutions for so many problems. Having it as a support treatment for laser resurfacing is proving to elevate the laser's problem-solving ability."
Botox started out some years ago as a treatment for eyelid spasm. When it was discovered that the tiny toxin also relaxed frown lines, its cosmetic use took flight. Today, Botox has uses that defy what anyone would have guessed.
Here is a running list of Botox use (though not all physicians are experienced enough to use the toxin in all the locations listed below)

Frown Lines and Worry Lines
Crows' Feet
Asymmetrical Brow
Chemical Brow Lift (A favorite)
Bunny Lines
Drooping Nose Tip
Gummy Smile
Downturned Mouth Corner ("Sad Smile"}
Neck Bands
Chin Scrunch
Jowl Softening
Vertical Lip Lines
Excessive Sweating
Enhanced Wound Healing and Scar Prevention
New medical use in migraine, back pain and TML
Used along with fillers, Dr. Pilest finds that Botox also tends to typically prolong the effects of the dermal fillers by restricting muscle activity that drives filler component breakdown.
Dr. Pilest enthuses, "For a fast, simple and practically painless injection procedure, the benefits patients see from Botox are some of the most satisfying and predictable."
Clinical study patients will receive Botox about 7 days prior to laser treatments. The Fraxel CO2 Re:pair laser treatments are then applied to the newly relaxed lip area with only need for a simple lip block as anesthesia. More than one laser treatment may be required depending on the depth of the wrinkles. Results will be evaluated after a 3 month final post-procedure time span to determine effectiveness of the combined treatment protocol.
Dr. Pilest is a Board Certified Dermatologist who has taken care of patients in the Orange County area for 30 years. His private practice, Total Dermatology, is located near the Spectrum in Irvine, California and is well known as one of Southern California's most comprehensive cosmetic laser centers.
Personalized cosmetic consultations with Dr. Pilest are complimentary. The office may be contacted by calling (949) 727 3800 or toll free at (877) DrPilest. Website: http://www.TotalDermatology.com
# # #