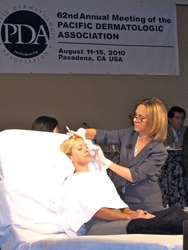 What do people really want to accomplish when they walk in our practice door?
Los Angeles, CA (Vocus) October 5, 2010
Rebecca Fitzgerald, one of Los Angeles' most highly visible and dedicated cosmetic dermatologists and skin surgeons, spoke at this year's Pacific Dermatologic Association annual meeting in Pasadena on the advances in Cosmetic Fillers and Injectable and also about Sculptra for volume loss. She, along with other professional peers, provided not only lectures but live demonstrations on the current uses of various fillers and the collagen stimulator Sculptra.
Dr. Fitzgerald posed a question, " What do people really want to accomplish when they walk in our practice door?"
The replies might include 'looking prettier', 'getting attention', 'being able to compete in the marketplace', 'getting and keeping a job', 'finding a mate', 'getting respect from others'. And what does that all boil down to?
"None of us want to look old or unattractive. And why is that? Is old or not-so-pretty so horrible?" Dr. Fitzgerald poses. "Of course not. The problem is how society penalizes us for looking tired after long hours and hard work; for growing older or having jowls or less than perky lips. When we're judged based on our looks, our self esteem takes a huge hit. It's not right, but it's something we're forced to deal with – at least in western cultures and certainly in ours here in Southern California..
"From the interactions with my patients, the overriding motivation to look better is based on the fact that it makes them FEEL BETTER. And when we feel better about ourselves, we exude a totally different aura which engenders a totally different response from those around us.
"It's almost a catch-22. If you feel bad about how you look – and let's base this on how we'd prefer to look - you'll be reticent or shy - or sometimes on the opposite spectrum appear to be rude or abrupt in a subconscious attempt to be less withdrawn. If you feel good about how you look, then you exude energy, friendliness and competence and those factors, all on their own, are perceived as elements of attractiveness."
Dr. Fitzgerald shares how so many of her patients use the words 'feel better' when they talk about how they evaluate the way they look after opting for treatments – some as simple as Botox to get rid of a worried expression or as comprehensive as Sculptra for facial volume, Juvederm for lips, Radiesse for a "new nose" or lasers to clean up years' of sun damage or neglect.
"It's natural that we all want to look as good as we can. What's more intrinsically valuable in this process is not the look, per se, but what that look generates – and that's self esteem." This, she says, is the big driving force in her constant reach for providing as perfect as possible results for her patients.
"For women in particular, we aren't valued for the wrinkles of experience or hard work. Age makes us invisible in a society that has come to mostly disregard the value of wisdom and experience. That's sad. But it's also a reality we have to deal with. And that is precisely what makes my work so incredibly rewarding. When a little bit of filler, a light treatment or the right products improve someone's appearance, I can SEE the difference in how they feel about themselves – and often it's instant. And that, I think, is the most important thing I have to offer the women and men who honor me with their trust and confidence."
Dr. Rebecca Fitzgerald has practiced as a Board Certified Dermatologist for over 20 years. She is a Clinical Instructor of Medicine at UCLA, spearheaded the use of Sculptra for a special HIV clinic at a major health care provider and has often been on call for volunteer services.
Her research and expertise make her a sought after speaker both here in the U.S. and abroad as well as a frequent contributor to news programs such as Entertainment Tonight and other LA-based news stations. She is currently a primary International Master level Sculptra training physician for Dermik Laboratories, the aesthetic arm of Sanofi-Aventis, one of the world's largest pharmaceutical developers.
Dr. Fitzgerald is also an injection training physician for Allergan products Juvederm and Botox and is on the Medical Education Faculty for Bioform's Radiesse long term dermal filler. She co-authors articles in peer reviewed professional journals and contributes to physician training publications and training videos.
Dr. Fitzgerald's private practice is located in Hancock Park / Larchmont Village at 321 N. Larchmont Blvd., Suite 906. The practice website is RebeccaFitzgeraldMD.com and phone is (323) 464 8046.
# # #