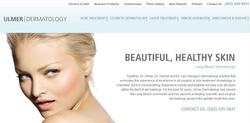 Long Beach, CA (Vocus) October 12, 2010
Looking for a method to enhance or achieve healthy skin is just a click away for residents in Long Beach at the new Ulmer Dermatology website. http://ulmerderm.com
For over 35 years, Ulmer Dermatology has been a leading dermatology practice in Long Beach and the South Bay area. The board certified dermatologists provide excellent skin care with services that include acne and skin cancer treatments, laser dermatology, pediatric dermatology and a full line of cosmetic procedures.
Whether the viewer's goal is to be acne free or to take years off their appearance with a facial filler, a visit to the new website will show how dermatologists Dr. Ulmer, Dr. Gabriel and Dr. Lee use the latest research and techniques to deliver the results a patient desires.
Website visitors can scroll through the extensive gallery of before and after photos to view patients who have achieved results from the various skin care treatments offered. Online testimonials use words such as "amazing", "rewarding", and "great" to describe their experiences with the dermatologists and staff at Ulmer Dermatology. Website pages are devoted to biographies that detail education, areas of specialization and the medical credentials of each dermatologist. Photos of the friendly dermatologists, nurses and staff are also included.
Helpful on-line features allow visitors to quickly find the information they are looking for to better understand specific skin conditions. Those who are confused by the array of facial fillers on the market will like the website's product list. The easy-to-understand product descriptions will help determine what product might be most beneficial for them; including Botox, Dysport, Juvederm, Radiesse, Restylane, and Sculptra.
Before their visit, a new patient can print the necessary paperwork and complete it in the comfort of their home. Information regarding insurance, payment expectations and the scheduling of appointments is explained in detail so that patients will be well-informed of the policies and administrative practices at Ulmer Dermatology.
Easy navigation tools will lead the viewer to information on skin care products offered for sale in the office. Products that have been developed and selected by the dermatologists for their effectiveness, including the Prouve Skin Care System, are featured on the website and are tailored to the patient's needs at the time of their appointment with the doctor.
Continual updates are made to the Ulmer Dermatology website. Viewers are encouraged to check back on a regular basis. A dermatology blog will also be launched in the near future. It will focus on news, advancements in treatments and other related topics.
###