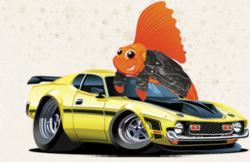 I think that a true basketball fan hates to see any star player out for the season.
Chicago, IL (PRWEB) April 30, 2012
RoadFish.com men's lifestyle and finance magazine today sends its regrets out to the Chicago Bulls, as the team has just lost their starting point guard and last year's MVP of the season, Derrick Rose, to a torn ACL. Rose went down in the last minute and a half of Saturday's playoffs Game 1 against the 76ers, with an MRI later confirming a costly injury in the ACL tear.
ESPN's Stephania Bell reports that a replay of the video of Rose's last moments on court reveals that he may have been injured just before he jumped into the air, dished the ball off to teammate Carlos Boozer, and landed awkwardly with 80 seconds to go in the fourth quarter. Bell claims that as Rose makes a jump stop to his right, squaring up as though he were going to shoot the ball, it appears that his left knee collapses inward and as Rose jumps into the air a second later, it is completely off balance and he lands askew. In the moments that follow, Rose tries to step using his left leg, but it gives out and he falls to the ground, clutching his knee and writhing in pain.
The article goes on to report that the serious ACL tear doesn't mean just missing the playoffs for Rose, but will also dampen Rose's ability to play in the summer Olympic Games and could potentially even jeopardize his chances as starting the next NBA season. The timetable for an ACL tear is unfortunately a long one.
RoadFish.com's Senior staff writer is quoted as saying, "I'm no Bulls fan, but I was definitely disappointed seeing Rose go down yesterday. I think that a true basketball fan hates to see any star player out for the season. He's an incredible athlete, and I was very excited to see him play in the playoffs, especially after a bumpy season with so many other injuries. I thought this was it, you know, those are in the past and Rose is on the rise. It's disappointing, and I really feel for him."
23-year-old Derrick Rose has suffered more injuries than your typical young and healthy pro athlete. Rose injured his elbow just two weeks into the regular season, then sprained his left big toe only a week later. In February, Rose was forced to the bench by lower back spasms and shortly after missed another handful of games due to a groin strain. After the groin injury came a sprained right ankle, and not far behind a injury to his right foot flared up. The above-mentioned ESPN article quotes Rose as expressing frustration from the series of plaguing injuries, and is quoted as telling reports a couple months ago, "For someone to not miss more than seven, 10 games in a year (my first three seasons), to miss 20 something, 30 something games, it hurts, man."
RoadFish.com doesn't feel that this is the end of the line for the Bulls. RoadFish.com's Senior staff writer is quoted saying, "Rose has been plagued by injury for the entire season. As a result, the Bulls have had to learn to play without him, and utilize other assets on the court. I like to believe for their sake that a shot at the Championship is far from over. It's just really unfortunate that Rose won't be there for it."
Reported Neil Hayes wrote an article for the Chicago Sun-Times including Rose's teammates' reactions to his injury. Bulls power-forward Taj Gibson is quoted as saying on Satuday, "It sucks because he was just getting back. He looked good in practice yesterday, and he was looking good in the game offensively and defensively. It was good to have our leader back." Likewise, shooting-guard/small forward Kyle Korver was disappointed by the loss of a high-performing teammate, but expressed hope that the Bulls can still persevere in the playoffs. Korver is quoted saying, "It's the saddest win. But we have to pick ourselves up. We've played a lot of games without [Rose]. Maybe it was just getting us ready for this."
About RoadFish
RoadFish.com is an online men's lifestyle and finance magazine targeted toward men in their 30s and 40s that have already attained a moderate level of success in life, and are striving toward more. It goes over current events of interest to this group, such things as exciting adventures, making money, consumer interests, hot chicks, and Summer Olympics news as well as ways to make more and save more money. It is a publication owned by Purpose Inc.
###