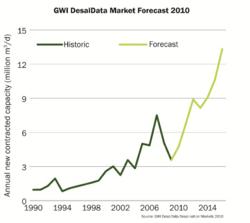 (PRWEB) September 08, 2010
A new authoritative analysis of the outlook for the industry published today suggests that new capacity contracted this year will be in the region of 4.7 million m3/d – well below the market peak of 7.5 million m3/d achieved in 2007. There will be some bounce back in 2011, with new capacity of 6.8 million m3/d expected, but the market is not expected to exceed what was achieved in 2007 until 2012. By 2016 the market is expected to reach 13.2 million m3/d of new capacity added.
There are a number of factors behind the cooling of the desalination market. These include:

The completion of major desalination plant building programmes in Algeria, Spain, and Australia.
The weakness of the real estate market in the UAE, Southern Spain and the Western United States
Project delays and postponements related to a variety of unconnected issues such as elections, financing difficulties, heavy rains, and administrative issues.
The report's editor, Christopher Gasson, commented: "We have long been expecting a lull in the desalination market, but the global financial crisis has made things worse. However, the growth picture in the longer term remains very strong indeed. There is just not enough freshwater in the world to meet the growing needs of farmers, industries and cities. We can certainly do more to conserve and reuse water, but desalination is the only way of adding to what nature does in the water cycle."
Publicly traded companies involved in the desalination sector include Veolia Environnement, Suez Environnement, General Electric and Energy Recovery Inc. They enjoy strong long term prospects in this market, although revenues in the current year will have been impacted.
Other press releases, graphics and material from the report can be found at http://www.desalmarkets.com.
Note to editors:
1. Desalination Markets 2010 is published in September by Global Water Intelligence. Press queries should be directed to Ruth Newcombe on rn(at)globalwaterintel(dot)com, who can arrange interviews with the report's editor, Christopher Gasson.
2. Global Water Intelligence is the foremost researcher/publisher of data and information for the water industry worldwide, providing new water market reports each year, as well as three major subscription titles. See http://www.globalwaterintel.com for full details.
###