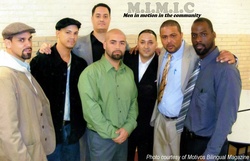 It was like I had never existed
Washington, DC (Vocus) December 14, 2009
Edwin Desamour grew up idolizing his father who was dealing drugs. He watched family members commit violent acts of crime, and was even given a gun at the age of 12. At 16 he accompanied some friends across town to get revenge for a friend who had been beaten up. "I had been involved with plenty of incidents where violence occurred," said Desamour. "But this time someone got killed." He was sentenced as an adult and served 8 ½ years in adult prison, followed by 11 ½ years of parole. He even spent some time in the same cell as his father.
Desamour was certified as an adult in the police station without a trial process. He was presented with a statement of events and told to sign it. The statement didn't match what happened, and there were inconsistencies with the language used and Deasamour's speech patterns. He believes that his refusal to sign the statement is what kept him from receiving a life sentence. All of his co-defendants signed their statements and are now serving life without parole.
While all the other juveniles at the police station got on one bus, Desamour boarded a bus bound for an adult facility. He found himself in an adult jail, where the juveniles awaiting trial were housed separately—next to adult offenders in solitary confinement.
Desamour experienced a defining moment in prison when he looked around and saw inmates who were in their 70's and 80's. "I just refused to let that happen to me," said Desamour.
Desamour beat the odds and successfully returned to his Philadelphia neighborhood once he was paroled. It wasn't easy to return to life on the outside. Desmour had grown up in prison, and learned to survive as an adult within the prison context. Once he earned parole he had to re-learn how to survive. He also faced challenges like not having any credit. "It was like I had never existed," said Desamour of trying to establish himself after his release. He credits his family for keeping him on the right path.
He began working on gang outreach, using his story to reach at-risk youth. Police officers and community members continually told him, "I wish I had a thousand of you." It occurred to Desamour that there were thousands of men like him out there, "but no one was giving them a chance."
Desamour founded Men in Motion in the Community (MIMIC) after hearing local teenagers talking about men who had served time in prison. Desamour recognized the names, and knew that the men had turned their lives around. MIMIC tries to teach teens to mimic men like Desamour as they are today, not who they used to be.
On the streets, men returning from prison are more respected than those returning from college. Desamour and MIMIC are working to change that attitude and help local youths fulfill their potential. He sees what kids can achieve with their lives, but he also sees that many of them see prison as a natural part of their lives. His goal is to help kids see what they can achieve, but "skip the prison part."
Desamour urges Congress to make a difference in our communities by reauthorizing the Juvenile Justice and Delinquency Prevention Act (JJDPA). This legislation has been around for 35 years and provides protections to juveniles as well as their communities.
Links:
http://www.cnn.com/video/#/video/crime/2009/11/09/bolduan.juvenile.offenders.cnn
http://www.cnn.com/2009/CRIME/11/08/supreme.court.juvenile.justice/index.html
http://www.blogtalkradio.com/jjmatters/2009/09/17/interview-with-edwin-desamour
###