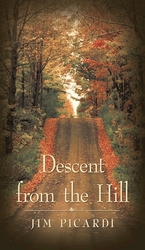 It educates about the world-shaking chaos of the times and depicts the tentacles of scandal, showing it doesn't end with the news story
Franktown, CO (Vocus) November 18, 2010
How much control do we really have over our lives? A new fiction book poses this question as it follows four college friends through the wistful idealism of 1960s generation youth, unveiling conspiracy and scandal along the way.
In his inaugural book Descent from the Hill, author Jim Picardi takes readers on a journey with Justin Windsor, a young man whose conventional life drastically changes in 1960 when he enrolls at "the Hill," a prestigious northeastern Ivy League college. It's here that he and his three college roommates embark on a lifelong journey as they navigate coming of age in a world choked by war, civil strife and protest.
"It educates about the world-shaking chaos of the times and depicts the tentacles of scandal, showing it doesn't end with the news story," says Picardi. "It depicts the lives of people who have been touched by such scandal and the life-altering effects that can arise."
As harrowing choices made by their parents complicate the course of the students' lives, Picardi brings readers through 1989, highlighting political and religious controversy and invoking themes of ideology, history and international intrigue.
"This is a story about a generation," Picardi says. "How crimes and lies affect the lives of innocent and unsuspecting people, some of whom are blood relatives."
Addressing the importance of expecting the unexpected, Descent from the Hill is inspired by Picardi's real-life experiences. Portraying a generation of youth to which many can relate, conspiracies and secret pacts ultimately lead to revelations of betrayal and corruption at the highest levels of leadership.
"Essentially, control is nothing more than a blighted illusion," says Picardi. "Four friends demonstrate that they believe they have control. They set out to change a world that ends up changing them."
About the author
A retired physician, Jim Picardi graduated from upstate New York's Hamilton College in 1964 with a degree in languages and literature. He later embarked on a 34-year career in medicine in Pensacola, Fla. Picardi enjoys the outdoors, photography and snow skiing. He resides in Franktown, Colo. This is his first book.
iUniverse is the premier book publisher for emerging, self-published authors. For more information, please visit http://www.iuniverse.com.
# # #