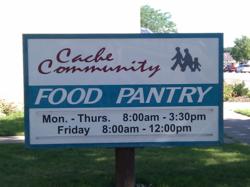 We encourage everyone to buy a couple items extra every time they go to the store and then visit your local credit union and drop it off so it can help those families in need ~ Daniel Brownell
North Logan, UT (PRWEB) November 07, 2012
Deseret First Credit Union, serving members and employees of the LDS Church since 1955, is participating in an effort to make the holiday season a little brighter for Cache County families in need.
Now through December 14, Deseret First, America First, Mountain America, USU Charter, Logan Medical Federal, and Logan-Cache-Rich credit unions will collect food for its fourth-annual Cache Valley Credit Union Holiday Food Drive. Each credit union is asking for donations of nonperishable food items at any of its valley branches to help the Cache Community Food Pantry help others.
As we come into the holiday season, there is once again a great need to help local families have food on their table. We encourage everyone to buy a couple items extra every time they go to the store and then visit your local credit union and drop it off so it can help those families in need," said Daniel Brownell, manager of the Logan branch of Deseret First Credit Union.
Donations will also be accepted at the following:
> Public skating session
Nov. 10, Dec. 14, 6:30-8:30 p.m.
Eccles Ice Center, 2825 N. 200 East, North Logan
$1.00 off each admission per food item donated
> Utah State University Hockey
Nov. 15
Eccles Ice Center
$1.00 off each admission per food item donated
> Cache Valley Figure Skating Club's "Winter Wonderland"
Dec. 7, 7 p.m.
Eccles Ice Center
Admission is free but the donation of a food item is requested
In addition, Eccles Ice Center and Cache Valley Transit District (750 N. 600 West, Logan) will accept donations during business hours through December 14.
For more information, contact Deseret First Credit Union at (435) 787-0991