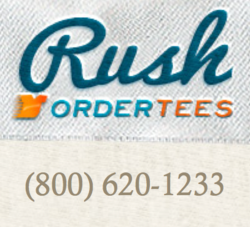 Turn the t-shirt inside out when washing and drying.
Philadelphia, PA (PRWEB) April 27, 2012
Custom designed t-shirts are growing in popularity. Custom t-shirts printer Rush Order Tees has published tips to make sure people's t-shirt designs last as long as possible:
1. Turn the t-shirt inside out when washing and drying.
By turning the garment inside out, the printed ink rubs against less material when tumbling in the washer or dryer. This simple step can really elongate the life of the screen printing.
2. Don't use a setting that is too high for the intended wash effect.
Pay attention to appropriate water temperature for dark and colored shirts.
3. Order custom t-shirts from a top quality vendor.
Lower quality and less reputable screen printers could make custom shirts with ink washout. This is when the ink on the shirt is not cured all of the way through and did not cure to the correct temperature.
Fibrillation is another sign of low quality printing. This is when the actual fabric fibers break free from the ink film. The ink will begin to look broken up, and the texture of the material will overcome the texture of the print. Turning garments inside out, as mentioned earlier, is the easiest and best way to prevent fibrillation.
Rush Order Tees
http://www.rushordertees.com/
(800)620-1233
About Rush Order Tees Custom T-Shirts
Rush Order Tees makes custom t-shirts through screen printing, DTG printing, embroidery and more. The Company is an eCommerce based businesses built on repeat business and referrals from satisfied customers, Rush Order Tees has grown to be a major leader in the custom shirt printing industry.
Since it's founding in 2002, Rush Order Tees has expanded its product offering beyond custom printed shirts to include a wide variety of sports, academic, community-driven, commercial and business offerings.
As it began to grow out of it's prior facilities, Rush Order Tees acquired a 15,000 SF facility in Philadelphia, PA which they equipped with over twenty of the highest quality screen printers, digital printers (DTG Direct to Garment printers), screen exposure units, screen printing heaters and much more. Now, in 2012, the business continues to grow to a point that now requires a new facility and offices.
Their customers have voiced their well earned allegiance and appreciation across many consumer-driven review sites earning Rush Order Tees and Printfly overwhelmingly positive online rating and reviews across the leading sites including Google, Superpages, Yellow Pages, and the Better Business Bureau where they hold a certified A+ Accredited Rating.
Contact Rush Order Tees at 1 (800) 620-1233