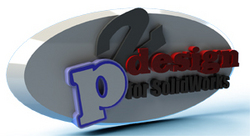 Our goal is to provide a positive and dramatic impact of services and a higher quality of training to our customers. We believe this new setting will allow us to rise to the forefront of technology and ultimately benefit our current and future customers. We look for our extensive move to be completed by the end of August
Mentor, OH (PRWEB) August 28, 2009
power2design, a developer of design automation software used exclusively for SolidWorks, announces that it will be moving and expanding its office headquarters to the Mentor area.
The new facility is located at 7200 Center Street, Mentor, Ohio 44060 and will be home to our sales, service, training, and technical consulting professionals serving clients throughout North America. Our three-story facility consists of 15,600 square feet of prime office space including a customer care center, state-of-the-art training labs, and employee offices.
Business development efforts have yielded several key customers throughout our two-year existence, and include tremendous growth potential for the near future. This new location will enable current and future customers to take advantage of state-of-the-art technologies the company offers.
In addition to the advantages for existing clients, the new facility will house a unique technology accelerator to help startup firms propel their business by taking advantage of shared technologies such as SolidWorks design and validation software, power2 design automation software, 3D scanning and printing for reverse engineering and presentation.
"Our goal is to provide a positive and dramatic impact of services and a higher quality of training to our customers. We believe this new setting will allow us to rise to the forefront of technology and ultimately benefit our current and future customers. We look for our extensive move to be completed by the end of August," said power2design CEO, Ken Zebracki.
About Power2design
Power2design is a firm specializing in unique products that provide maximum automation of SolidWorks engineering software for the manufacturing community. For more information, call 440.946.5533, or visit http://www.power2pro.com.
# # #