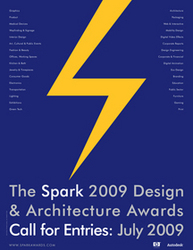 Spark celebrates the best in dazzling design - from architecture and products to the bravest digital work, and we've already received a great wave of summer submissions
New York, NY (PRWEB) September 3, 2009
Several hundred top designs are already contenders in this year's Spark Design and Architecture Awards. Designers and firms, agencies and students now have until October 15th to upload last minute submissions in this unique, global design competition.
"Spark celebrates the best in dazzling design - from architecture and products to the bravest digital work, and we've already received a great wave of summer submissions," explains Peter Kuchnicki, executive director of Spark Awards. "But we want more - things that blow existing solutions apart, by people who see problems with completely new eyes."
The Spark Awards website features all the latest 2009 entries and design fans can follow its Twitter stream at twitter.com/sparkawards for profiles on new entries, plus sharp observation on great design and great designers. Entries will be pored over by a group of 19 renowned judges, including Rich Gioscia, Director of Design, Palm, Inc., John Barratt of Teague Design, Prof. Tong Huiming, VP Design, Guangzhou Academy of Fine Arts, Sally Dominguez at Rainwater Hog, Hanru Hau of San Francisco Art Institute, Sang-yeon Lee of Samsung Design America and Nathan Shedroff, chair of the Design Strategy MBA at California College of Arts.
Spark 2009 entries to date include:
Medical / pharmaceuticals. Global pharma company's UCB's Cimzia Prefilled Syringe is a striking entry in Spark. Designed with OXO, the company behind Good Grips products, patients can self-administer this treatment for Crohn's disease and rheumatoid arthritis.
Furniture. David Moser's Kinesis Chair and Ottoman features a fine-art case bronze sculpture base with milled wooden frame and base and leather or suede upholstery.
Architecture. Craig Hartman of S.O.M's new U.S. Embassy building in Beijing, at 500,000 square feet, is the second largest embassy compound ever undertaken by the U.S. government. The Embassy is founded upon a contemporary interpretation of China's ancient culture of outdoor urban rooms and gardens, and is organized in three "neighborhoods"
Interactive. Ford's SmartGauge, developed with Smart Design and IDEO, is a unique new LCD instrument cluster built into Ford's 2010 Hybrid Fusion and Mercury Milan sedans. It's aimed at informing and adapting the behaviour of the least efficient part of a hybrid vehicle, the driver.
Electronics. The Blossom DPS camera concept by student Hyun-mook Kang, is focused on reducing the number of buttons and attachments, to focus on easy operation, and maximum appeal, by the young female market. Mimicking a perfume bottle in shape, a pull-out cap lets the photographer to touch up a face on screen.
Lighting. Jake Dyson's Motorlight Wall is a motorised wall mounted light, operated via a remote control that can also run up to 30 lights simultaneously. Designed for homes or commercial buildings, the user can choose a beam of between 10 and 120 degrees.
Spark draws top 2009 Chinese talent
This year, Spark is working hard to attract Chinese design talent, a powerful new force, through a unique partnership with CitiExpo, organizer of the Guangzhou Design Week (GZDW) and the Designweek awards. CitiExpo is helping Chinese designers enter the Spark Awards at the international level.
"China is investing heavily in design education, with over ten thousand product designers, architects and interactive design specialists now graduating every year," comments Kuchnicki. "But we want even more designs that blow existing solutions apart, by people who see problems with completely new eyes." For more on SparkChina visit its dedicated website at http://www.sparkawards.cn and visit the Spark Exhibition Pavilion at the GZDW, December 4-6, 2009
Quick online entry process, phased entry costs
Spark is a two-phase competition. Work is submitted online with a brief mission statement. Those who pass to Phase 2 place their work at the centre of a multi-day Jury/Seminar/Celebration/Exhibition, pored over by a jury of top design experts and a design-passionate audience. Entry fees for Phase 1 are US $175 per design for professionals and $100 per design for students and non-professionals. Phase 2 registration, for entries invited forward to Spark Finalist-Challenger stage, is $250 per design (student entries free).
Winner's will have their work displayed from the end of October in Spark's unique design gallery at San Francisco hot-spot, the Autodesk Design Gallery and then at Guangzhou Design Week from early December.
Full details on the Spark Awards are at http://www.sparkawards.com.
# # #