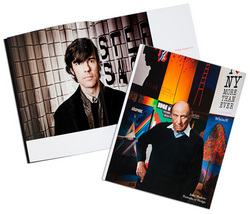 I can't speak for the other subjects, but I would say that John's photograph makes me look unrealistically cool (and anyone who sees it before meeting me in person is in for a tremendous disappointment)
Cohoes, NY (PRWEB) July 22, 2010
John Madere, an award-winning photographer, has a passion for capturing the mystery of people on film. In his self-promotion, Portraits of Design, Madere gives us a glimpse into the personalities of some of the most recognized graphic designers of our time.
"Graphic designers, with whom I often collaborate, have mesmerized me with their ability to bring my photographs to life in print," says John Madere in Portraits of Design. In his new self-promotion, Madere uses Mohawk Kromekote's photo reproduction quality to bring graphic designers to life.
Madere, an award-winning photographer, has a passion for capturing the mystery of people on film. In his self-promotion, Portraits of Design, Madere gives us a glimpse into the personalities of some of the most recognized graphic designers of our time. Milton Glaser graces the cover and, in order of appearance are: Stefan Sagmeister, Paula Scher, Stephen Doyle, Michael Bierut, Massimo and Lella Vignelli, Chip Kidd, April Greiman, Seymour Chwast and Ellen Lupton.
Along with the captivating portraits, Madere shares anecdotes of each photo session including Massimo Vignelli's camera prototype and Chip Kidd's impressive collection of Batman memorabilia.
What do the subjects think about their portraits? "I can't speak for the other subjects, but I would say that John's photograph makes me look unrealistically cool (and anyone who sees it before meeting me in person is in for a tremendous disappointment)," jokes Michael Bierut.
Designed by Lynda Decker, President and CEO of Decker Design, Portraits of Design was a two-year-long process. Decker, who suggested Madere create a book around these portraits says, "This was a highly collaborative effort. John and I often discussed the work and legacy of each of the designers. My team and I worked to create a disciplined grid and varied pacing but decided to subordinate 'design' to the beauty of the images. John's images are extraordinary therefore fine art photography books became our model for the design. I have long been a fan of uncoated paper and haven't worked with Kromekote in many, many years. Using it for Portraits of Design gave me a new appreciation for the sheet's ability to remarkably reproduce photographic detail," says Decker.
Portraits of Design was printed by Sandy Alexander on Mohawk Kromekote. The sleek surface was a perfect choice. Its reproduction quality brought Madere's photographs to life without the need for extra hits or touch plates. With just conventional screening and four-color process, amazing details can be seen in the corduroy of Stefan Sagmeister's jacket, the tiny hand painted type in Paula Scher's "Tsunami" map, the fluorescent colors in April Greiman's studio (without using fluorescent inks), or the reflections in the Cooper Hewitt display case hovering above Ellen Lupton's reclining figure.
According to Pam McGuire, Mohawk's Print Production Manager, the only "special treatment" used was a dull varnish on the building frame in Michael Bierut's portrait. "The varnish let the glossy Kromekote finish shine through as the glass windows. It's a nice way to show how Kromekote can be dulled down if a designer wanted to get exact photo reproduction without the high gloss."
Madere says he is thrilled with the finished book. "I have to say that it's the most beautifully reproduced collection of my photography that I have seen in awhile. For the past few years much of my work has been very well printed on uncoated papers. Mohawk's Kromekote brought out a whole new level of richness and detail that I hadn't previously seen — especially, of course, detail in the blacks. It was like seeing one of my favorite photographs come up in the developing tray of my 20th century darkroom," he says.
To get a copy of Portraits of Design contact your local sales representative or visit http://www.mohawkpaperstore.com/referer/newsletter?items=76-709670110.
To receive more Mohawk news, sign up for an RSS feed at http://news.mohawkpaper.com/.
For more information, visit http://www.mohawkpaper.com or call 1-800 the mill.
About Mohawk
The largest privately owned manufacturer of premium printing, writing, and digital papers in North America, Mohawk Fine Papers Inc. provides innovative products and services to professional designers and commercial printers. Signature paper lines include Strathmoreè, Mohawk Superfine, Mohawk Loop®, Mohawk Color Copy®, Mohawk Options®, and proprietary i-Tone® and Inxwell® technologies. Products and samples are available through mohawkpaperstore.com.
Mohawk now offers software solutions for professional photographers and labs through LabPrints, a wholly owned subsidiary of Mohawk. The company also operates an on-line marketplace for designer stationery, posters, and prints: feltandwireshop.com.
Mohawk is a third-generation, family-owned business and certified Women-Owned Business Enterprise that constantly renews its commitment to environmental stewardship. As the first U.S. manufacturer of commercial printing papers to match 100% of its electricity with windpower renewable energy credits and the first U.S. premium paper mill to shift toward carbon neutral production, its portfolio of recycled papers certified by Green Seal and the Forest Stewardship Council's (FSC) standards, continues to grow along with the rest of the company. For more information visit mohawkpaper.com.
###