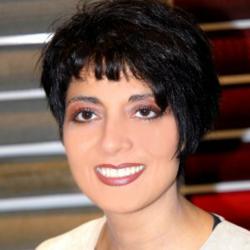 Considerations and processes for responsible design in this new era of globalization offer expansive opportunities and challenges that require a sensitive approach to the human condition
Los Angeles, CA (PRWEB) February 27, 2013
Celebrated designer, author, and educator Shashi Caan will present a public lecture on March 13, 2013 at the Museum of Contemporary Art, Los Angeles. Ms. Caan is the 4th annual, 2012-2013 Donghia Designer-in-Residence in Otis College of Art and Design's Architecture/Landscape/Interiors Department.
Shashi Caan was born in India and educated in Scotland at the Edinburgh College of Art, where she received a BFA (with honors) in Environmental Design, and at Pratt Institute in New York, where she obtained two master's degrees, the first in Architecture and the second in Industrial Design.
Founder and Principal of the Shashi Caan Collective, Shashi Caan is known for her groundbreaking work uniting the multiple layers of architecture, interior, and product design. Through a unique collaborative design process, the Shashi Caan Collective provides architecture, interior, workplace, and product design solutions focused on social conditions and quality of life rather than trends and superficial aesthetics.  The Collective's collaborative structure has produced highly innovative and successful work, resulting in major industry awards and accolades from sources such as "Metropolis" magazine, "Architecture and Interior Design" magazine; the International Interior Design Association, GlobalShop, and NeoCon.
Bridging design practice, theory, and education, Ms. Caan has made significant contributions to international design advocacy as current President of the International Federation of Interior Architects/ Designers (IFI) – representing over 270,000 designers worldwide – and as previous Executive Chair, and current Executive Committee member, of the International Design Alliance (IDA). She is former Chair of the Interiors Department at Parsons The New School for Design, and also served as Director of Design and Associate Partner in the New York office of Skidmore, Owings and Merrill. Other prior affiliations include Gensler, Pratt Institute, and the New York School of Interior Design.
"Contract" magazine named Shashi Caan 'Designer of Year' in their 25th Anniversary issue, and the International Facilities Management Association named her 'Educator of Year' for Greater New York. A sought-after public speaker, Ms. Caan participates in design juries, panel discussions, workshops, and lectures around the world. Over the last decade she has written numerous articles, essays, and critiques, published both in the U.S. and internationally. She is the author of "Rethinking Design and Interiors: Human Beings in the Built Environment."(2011)
Event Details
Shashi Caan Lecture
Museum of Contemporary Art, Los Angeles - Ahmanson Auditorium
250 South Grand Avenue, Los Angeles, CA  90012
March 13, 2013 7:30 PM
Open Seating begins at 7:00 PM
A reception will follow the lecture at 9:00 PM
This lecture and reception are and open to the public
This lecture was made possible through a generous grant from the Angelo Donghia Foundation, which provides support for the advancement of education in the field of interior design, and for the investigation and treatment of AIDS and its related diseases.
This lecture was organized by the Architecture/Landscape/Interiors Department at Otis College of Art and Design. For information about the lecture or department call 310.665.6867, email ArchitectureLandscapeInteriors(at)otis(dot)edu or visit http://www.otis.edu/ali.
"This lecture is in conjunction with a weeklong master class at Otis College of Art and Design. The title of this lecture - Global Social Responsibility:  Heralding a New Era of Design – seeks to address the content of the exploration envisioned for the 2012-2013 Donghia Designer-in-Residence Master Class at Otis College of Art and Design, in which students will investigate creative design solutions that impact not just commercial success globally, but also the quality of life for people across the world. Considerations and processes for responsible design in this new era of globalization offer expansive opportunities and challenges that require a sensitive approach to the human condition." – Shashi Caan
Otis' Architecture/Landscapes/Interiors Department
Architecture/Landscape/Interiors (A/L/I) seeks to contribute to the emergence of imaginative contemporary practices through a synthetic curriculum of the spatial design fields: architecture (buildings), landscape (spaces between buildings), and interiors (spaces within buildings).
About Otis College of Art and Design
Founded in Los Angeles in 1918, Otis College of Art and Design prepares diverse students of art and design to enrich the world through their creativity, their skill, and their vision. The College offers an interdisciplinary education for 1200 full-time students, awarding BFA degrees in Advertising, Architecture/Landscape/Interiors, Digital Media, Fashion Design, Illustration, Graphic Design, Product Design, Painting, Photography, Sculpture/New Genres, and Toy Design; and MFA degrees in Fine Arts, Graphic Design, Public Practice, and Writing. Continuing Education offers certificate programs as well as personal and professional development courses. Additional information is available at http://www.otis.edu.