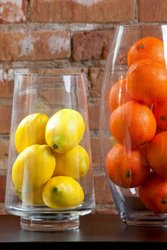 As a holiday host myself to a number of visiting relatives, it seems that every year I spend, spend, spend, to get everything ready to make my guests' visits more comfortable in my home
Salt Lake City (Vocus) October 29, 2010
High-style, low-price retailer DownEast Home & Clothing has announced a new "Spice Up the Holidays" campaign that offers shoppers a gift in return for readying their homes for guests this season. For purchases on specific items made at all store locations in Utah and Idaho from now through November 24, 2010, shoppers will receive back a percentage of their expenditure in gift cards. As always, the DownEast customer service team is available at every store to offer home decorating advice, including ways to make your home more welcoming to guests this holiday.
"As a holiday host myself to a number of visiting relatives, it seems that every year I spend, spend, spend, to get everything ready to make my guests' visits more comfortable in my home," said Tiffany Wakeling, Director of Stores for DownEast Home & Clothing. "Knowing our customers feel the same way, we decided to go a step further than the daily great deals we offer by giving shoppers something in return for purchasing specific store items – a DownEast Home gift card ranging in value from $25 to $250, based on what they spent. It's our way of saying thank you and 'get something for yourself!' to our loyal following of customers."
The gift cards can be applied toward customers' next purchases at DownEast Home & Clothing. Everyday, great deals at the retailer's store locations include 50 to 80 percent off national brand name furniture and clothing, as well as the brand's own affordable, boutique-style clothing line, DownEast Basics.
Here are some great holiday design tips for every room in the house from the staff at DownEast Home & Clothing:

Having a large family gathering in a tight living space? Make things seem less crammed by ensuring everyone has a seat. Instead of buying folding chairs you only use at times like this, consider re-doing your living room with a new sofa that features a generously sized ottoman. The ottoman can seat two in a pinch, and once the guests pack up and leave, it becomes an instant table when topped with a tray any day of the year.
Think it's a not-too-wise expenditure to buy holiday-themed decorations you'll only use a few weeks out of the year? Go fresh, colorful and in-season with branches, bowls of fruit or floral arrangements instead to brighten up a guest room dresser or living room end table, without breaking the bank.
Many guests appreciate nothing more than a great night's sleep after their long trip. Instead of offering the fold-out couch in the spare room to guests who have traveled so far, consider investing in the long-term value of a new mattress. Dress it up with matching linens and comfy new pillows for a true guest room experience.
It may be the smallest room in the house – but the bathroom is one place where it's incredibly affordable to re-design without ripping up the floor or putting in a new, expensive countertop. Just replacing floor mats, towels, accessories and wall hangings can change the entire look and feel of the room.
Even if you're not in the market for a new dining room table, you can make a brand new, festive statement simply by adding a new centerpiece, dishes or accessories. In particular, glass accessories illuminate and enhance the style you may already have established in a room. You can also embrace the seasonal harvest theme with decorative wooden or grapevine balls stacked in vases or bowls on shelves, or even as a centerpiece.
If you are in the market for a new table, whether you're looking for traditional or modern designs, DownEast offers more than 100 different styles to make your holiday meal one guests will remember.
For additional home design tips throughout the year, read the 'At Home with DownEast Home' blog and keep up to date on deals and special promotions by following DownEast Home & Clothing on Facebook.
About DownEast Home & Clothing
DownEast Home & Clothing (http://www.downeasthome.com ), a leader in stylish and affordable apparel, home furnishings and accessories, believes that shopping should be a fun, guilt-free experience. Founded in 1991 and still family-owned and operated, DownEast continues its goal of bringing customers the very best merchandise including modest clothing – from national brands to its own DownEast Basics apparel – at the very best prices.
The DownEast Basics clothing line features smart layering pieces and wardrobe enhancing garments so you can embrace the American classic look with your own sense of style.
Shop for cute tops, modest dresses and accessories for women and girls at DowneastBasics.com.
The fast-growing retailer operates nationally with its Basics line via its online store in addition to 41 locations throughout the West including Utah, California, Idaho, Arizona, Washington, Nevada and Wyoming.
# # #