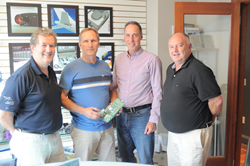 "It is exciting to join Design 1st, creating a combined team with a unique ability to tackle the emerging types of product design challenges."
Ottawa, ON (PRWEB) September 22, 2015
Design 1st, a full-service connected hardware product design company, announced that it has integrated the Ashton Electronic Systems team to create one of the largest and most experienced multi-disciplinary product design companies in Canada.
Reducing cost and risk in the design of smart and connected products.
"We have been tapping the talented electronics design experts at Ashton for several years," notes Kevin Bailey, Founder and President of Design 1st. "By having them become dedicated members of our integrated in-house team of industrial designers, engineers, and manufacturing setup specialists, we can take even more time, cost and risk out of the product development process for our customers. That is particularly valuable for the product categories where we are seeing the most growth: Smart Home, Smart Office, Wearables, and the Internet of Things (IoT)."
Creating a full service, multidisciplinary product design team.
"From industrial instruments and medical devices to Internet-connected consumer products and everything between, electronics and software are at the heart of most new products today," observes Peter Cottreau, President of Ashton. "It is exciting to join Design 1st, creating a combined team with a unique ability to tackle the emerging types of product design challenges."
About Design 1st
Over the past 18 years, Design 1st has helped create over 500 new products and contributed to over 130 patents, making them one of the largest, most experienced product design firms in Canada. Their industrial design, engineering, electronics, software, and manufacturing setup experts work as a unified team to help startups and large corporations transform ideas into winning hardware product solutions.
About Ashton Electronic Systems
Since 2006, Ashton Electronic Systems has been designing, testing, and certifying electronic hardware, firmware, and software applications for customers across North America. Their electronics design expertise has helped add a wide range of capabilities to new products, including wireless connectivity, portable and rechargeable power systems, intelligent sensors and automation, FPGA programming and sophisticated user interaction interfaces.