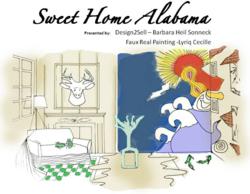 Atlanta,GA (PRWEB) April 29, 2013
Design2Sell Interiors and Home Staging will create an exhibit inspired by the movie "Sweet Home Alabama" at The Next Cool Event, one of the most anticipated events in Atlanta for the Film and TV production industry. This annual trade show showcases a variety of creative local vendors and designers. On May 3rd 2013, Barbara Heil-Sonneck, Creative Director and Co-Owner of the design company, along with her creative team will unveil their unique interpretation of the tug of war Melanie Smooter faces between choosing a city life in New York City or more humble beginnings in the sweet south of Alabama from the romantic comedy Sweet Home Alabama. Guests will experience an environment featuring warm country design seamlessly blended with modern décor, graffiti and influences from the color of the year, Emerald.
Barbara Heil-Sonneck once again utilizes the talents of fabric designer Goldie Dicks of Southern Interiors. Goldie's unique ability to create dramatic new aspects of color, proportion and atmosphere in addition to her superb training in sewing will surely help make the Sweet Home Alabama exhibit a one of a kind. Barbara will also be featuring graffiti in the exhibit by painter Lyriq Cecille of Faux Real Painting. Faux Real Painting offers a wide range of painting services from interior & exterior, commercial & residential, mural & graphic designs to color consults, surface prep and pressure washing. Design2Sell is so excited to showcase Lyriq's work of art.
Design2Sell's exhibit will be one of the many creative exhibits shown at this design extravaganza. Guests of the two night event will enjoy music, food and drinks all while browsing the many different set designs.
About the Next Cool Event
The Next Cool Event is a showcase of local Georgia-based creative resources to support the growing film and television industry. This year's showcase will be held in Le Fais do-do located in the West Midtown Design District at 1611 Ellsworth Industrial Blvd, Atlanta, Georgia 30318 from May 3-4, 2013. For more information about the event or to find out how to attend, please visit http://www.thenextcoolevent.com.
About Design2Sell
Design2Sell is a pioneer in bringing the most powerful staging techniques of Target Staging and Lifestyle Merchandising to Metro Atlanta. Founder Barbara Heil-Sonneck has a comprehensive remodeling background, and is designing spaces since 2001. Understanding that each project is unique to the customer, Barbara engages with her clients throughout the process to guarantee a truly personal service and result.
For more information about Design2Sell or for interior and home staging tips, visit http://www.homedesign2sell.com.