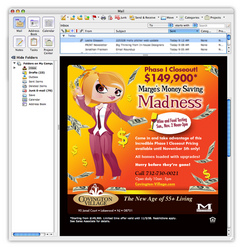 Prior to this recession, home builders primarily marketed through print advertising
Manasquan, NJ (PRWEB) March 24, 2009
It is clear that the homebuilding industry continues to be negatively affected by our country's current recession. In February 2009 alone, more than 290,000 properties completed foreclosure filings, which is a 6% jump from January of the same year, according to a recent news article posted on CNNMoney.com. 
With inventory relatively stagnant, new homebuilders have been forced to drastically cut marketing budgets. Unfortunately, in a time when marketing, branding and promotions may be the most crucial, the advertising segment of many builders' marketing budgets has taken the hardest hit.
As a result, marketing firms specializing in the homebuilding industry, such as Manasquan, NJ-based Design 446, have taken a more flexible, innovative and cost-effective approach to marketing, promoting a greater emphasis on electronic advertising and web-based publicity instead of traditional print media.
"Prior to this recession, home builders primarily marketed through print advertising," explained Tom Villane, President of Design 446. "We noticed, before the market began to show signs of trouble however, an increasing trend toward internet-driven promotions mainly due to the rapidly changing home buying demographic. 'Generation Y' homebuyers, born after 1979, are internet-oriented when seeking information as opposed to researching in print. Traffic studies show that internet advertising is also providing more prospects than print at a lower cost per unit. We realized then that the best way for us to provide successful marketing for our clients, especially during the current Real Estate corrections, would be to offer accommodating pricing complemented by innovative and creative marketing; i.e. smart marketing."
Although the firm still continues to include traditional print, outdoor and sometimes broadcast advertising in the marketing mix, Design 446 has quickly secured their position on the ground floor of the internet marketing movement by expanding their electronic advertising department and enhancing their electronic and internet-driven services. As a result, the firm has become one of the top full-service agencies in the home building industry offering their clients variable options that promote and brand their companies to the fullest extent, while simultaneously meeting strict budgets.
One of Design 446's full-service clients, Marge Karahuta of Matzel Development said, "The team at Design 446 understands the market. They realize where the market is headed, and they understand the importance of being cooperative with their clients, providing the most effective marketing concepts at a recession-friendly rate."
Ann Marie Baker, Vice President of Design 446 noted, "For over 35 years we have been a company based on customer service. When the market was slow, we accommodated, and when the market was booming, we continued to produce creative, quality campaigns, that drove traffic through our clients' doors. Make no mistake, this is the toughest market downturn we have experienced, but as always, we will work with our clients so they, and we, come through this recession on top."
Design 446 is a full-service marketing company specializing in the homebuilding industry. Based in Manasquan, NJ, the firm creates sales environments, signage and brochures, in addition to direct mail, advertising, public relations, merchandising and web based marketing strategies.
###