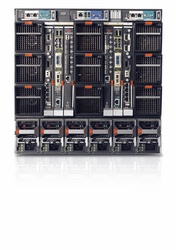 ROUND ROCK, Texas (PRWEB) October 17, 2008
Most recently, Dell's innovative design concepts won TOP honors at the iF Design Awards in China. Dell was recognized with five product awards including the PowerEdge™ M1000e, Inspiron™ Mini, the Dell Crystal, XPS One™ and Dell Studio™ Hybrid. The Studio Hybrid was also acknowledged by the iF China jury as the TOP Selection Award – an honor awarded to the 10 best products of the competition.
Frequently referred to as the "Oscar" of the industrial design world, iF awards are presented by one of the world's leading design institutions, the Industrie Forum. This year the iF Design Award China drew 408 entries from 14 countries and is widely recognized as helping to change the face of China's design industry.
Dell also received nine design awards from Good Design Japan 2008, Japan's only comprehensive design evaluation and commendation system, also known as G-Mark. The winning products from this year's competition include the Latitude E4200 and E4300 notebooks, Latitude™ XT, M209X Ultra Mobile Projector, Multifunction Laser 1125 Printer, Dell Precision™ M6400, XPS One, Studio Hybrid and the Dell Crystal.
Additional Information:
Links to:
iF Design Award China
Winning iF Design Award Entries
Good Design Japan 2008
http://chinese.direct2dell.com/
http://www.flickr.com/photos/dell_digital_media/
About Dell
Dell Inc. (NASDAQ: DELL) listens to customers and delivers innovative technology and services they trust and value.