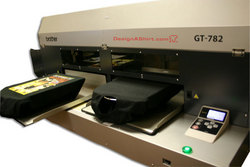 Tempe, AZ (PRWEB) July 7, 2009
DesignAShirt.com, one of the online leaders in custom t-shirts, has received Arizona's first Brother GT-782 Direct to Garment Ink Jet Printer. This new, cutting edge printer is the first Brother Garment Ink Jet that can print white ink. The Brother GT-782 Direct to Garment Ink Jet Printer can also print high quality designs on black t-shirts. With this printer, DesignAShirt.com's printing options are near limitless.
With the current rough economic climate, DesignAShirt.com still sees single t-shirt orders as an affordable luxury. In order to be able to meet any single t-shirt order, DesignAShirt.com has spent $55,000 on this new, state-of-the-art printer. This new printer allows DesignAShirt.com to implement a "Just One" program, which eliminates the minimum order that most printers require. DesignAShirt.com is able to print single shirt orders at a lower cost. The Brother GT-782 Direct to Garment Ink Jet Printer allows multiple printing options for smaller orders. DesignAShirt.com can use the more efficient printing process; the ability to print up to 60 individually designed, full color shirts per hour; to drastically increase productivity. Printing t-shirts faster and more efficiently allows money to be saved, savings that will be passed on to the customer. In these rough economic times, DesignAShirt.com is committed to spending the money to improve operations.
DesignAShirt.com is excited to have the opportunity to implement the Brother GT-782 Direct to Garment Ink Jet Printer into the printing process. The printer will help to make customers happier, printing more efficient and will help to increase market share. DesignAShirt.com is the only Arizona based t-shirt printing company to operate with this printer. This printer is so rare at the moment that only a few companies in the country have access to it. This marks a new era of t-shirt printing and DesignAShirt.com is proud and extremely excited to be one of the first to use it.
DesignAShirt.com was founded in 2003 and is now one of the online leaders in custom t-shirt design. For years DesignAShirt.com have specialized in online t-shirt design and printing. DesignAShirt.com offers affordable prices, fast shipping and great customer service. DesignAShirt.com's online design studio gives customers a multitude of options when it comes to designing their very own shirt. DesignAShirt.com has since expanded to include sweatshirts and children's clothing. DesignAShirt.com does all its printing in house, so they can personally oversee the quality of every product.
###