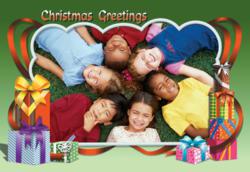 We are seeing more and more businesses use Photo Christmas cards as a more personal way to reach out to our clients and at the same time honor our staff by including them in our Photo Christmas card."
Oak HIll, VA (PRWEB) November 30, 2011
Design Crafters is an online company, which has been providing Holiday cards on various religious and non-religious themes since 1996. They have released their new range of Christmas cards this season, which besides their ever popular "Photo Christmas Cards," include many varieties of categories to suit the needs of any holiday card shopper. The sheer versatility of the cards and their beautiful designs is sure to appeal to all customers who are looking for something new and beautiful to spread their message to their clients and customers as well as their families and friends.
It is easy to browse for cards at http://www.designcrafters.com and equally easy to choose and order. This year they have come out with over 1800 designs of Christmas Cards, from 4 nationally reputed companies. All are unique and competitively priced.
According to Debby SIbert, president of Design Crafters, Photo Christmas Cards have always been a great hit for families with children, as it is a great way to show off one's family especially one with growing children. Design Crafters has a new assortment of photo Christmas cards this year, which can accommodate a favorite photograph or any image for that matter, with a choice of vertical or horizontal orientation, as per the choice of the client. These photo Christmas cards also can be personalized in any way of the customer's choosing.
These cards, even if used more frequently for families, can also be used for business purposes, where holiday greetings can be extended incorporating an office photo or even photos of the staff. Debby Sibert, President of Design Crafters states, "We are seeing more and more businesses use Photo Christmas cards as a more personal way to reach out to our clients and at the same time honor our staff by including them in our Photo Christmas card."
Some designs can even accommodate more than one photo. Photos can be printed right on the card. The client can send their favorite photos, which the Design Crafters will print on the card as per the client's preference.
Some of the printed photo cards do not fold, as they are single flat cards. The rest of the cards are of the folded variety where the client's customized verse or greetings can go inside of the card. A company logo or signatures can be added as well.
The designs are exclusive of Design Crafters and cannot be found anywhere else. They can all be personalized. In case the client prefers to develop their own photos, they can be mounted on the cards as well. The font, color, size etc. can be customized to suite the requirement of the client. Even if a virtual proof is not possible, the art department of Design Crafters will email a free proof prior to printing the cards, so that the client can preview them before printing.
Check out the newest selection of Photo Christmas cards at http://www.Designcrafters.com.
###