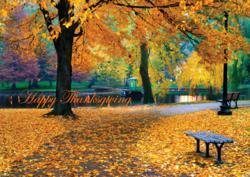 Thanksgiving cards are the clear holiday card choice if one wants to cross all cultural boundaries, since no one would take offense to any one offering thanks and appreciation.
Oak Hill, VA (PRWEB) October 18, 2011
With the holidays just around the corner, it is time for Thanksgiving cards to make the rounds. Design Crafters has come up with a whole new selection of personalized Thanksgiving Card designs, which are capable of catering to the different tastes of the populace. Design Crafters offers all sorts and varieties of Christmas cards and other holiday greetings cards as well as all occasion cards, including "Birthday" cards, "Thank you" cards and the like.
Design Crafters has come up with a whole new selection of Thanksgiving Cards this year, making way for one to send personalized messages of peace and harmony without overtly religious overtones. As quoted by Debby Sibert, owner of Design Crafters "Thanksgiving is a time when a business can express appreciation to their clients and customers for their past business with a thoughtful sentiment. Traditionally, Thanksgiving is a celebration of good harvest, and also peace and joy, and has the ability to bridge the cross-cultural divide across the country. No one has to worry about offending anyone who might not celebrate the other holidays around this time of year. It gives the sender an opportunity to express their appreciation for a client's past patronage and to thank others for their friendship."
Sending a religious Christmas card to a person who does not celebrate Christmas might give rise to controversies, but almost all cultures have their own way of expressing thanks and appreciation. Thanksgiving appeals to that universal celebration and hence sending such holiday cards is a good way to usher in the holiday season.
The Thanksgiving Cards come in various forms such as Personal Thanksgiving Cards, Business, Corporate Thanksgiving Cards and so on and so forth. There is a wide variety in designs and motifs, with the range varying from the traditional corn and pumpkin pie, not to mention the turkey, to more modern and contemporary autumn scenes, which are sure to appeal to the recipients of any of these beautiful holiday cards. There are discounts available on the manufacturers' price, and the cards represent four companies that are nationally renowned.
Customers are able to create their own design and generate a virtual proof to view how their Thanksgiving card will appear before printing. Creating one's own design could not be easier. While blank cards are available, it is also possible to customize the cards and add your own font, logos, photos, message or even signature to the cards. One will find that the prices are very competitive.
Design Crafters has been serving the online community since 1996 providing personalized Thanksgiving cards as well as other holiday cards and takes great pride in offering a whole new selection and variety each year that are suitable for business or personal use. Through 10/31 Design Crafters is offering a 5% discount on all their Holiday cards using coupon code DCPRT51
###