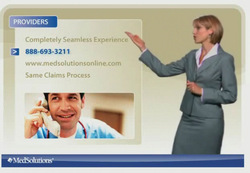 We have found a consistent formula with our Flash Demos
Atlanta, GA (Vocus) September 2, 2009
The drug rep checks her watch nervously in the doctor's waiting room. It's a scene we're all familiar with, but will it ever go away completely? Over the last decade, the use of "electronic detailing," or technology-supported selling without a face-to-face meeting, has taken off for a simple reason – doctors have less time and must see more patients than ever before.
A 2008 study by SK&A Information Services reported that 24% of physicians are not seeing reps anymore (1). And a similar study by Health Strategies Group found that 43 percent of actual sales visits never get past the receptionist (2).
According to Michael Higgins, president of Design Coup, an Atlanta-based healthcare marketing firm, "Healthcare companies are moving increasingly away from brochures and sales calls and toward e-marketing to get their message out. The days of slick, fat brochures are over."
Design Coup has developed a successful combination of Flash animation and video to help healthcare companies pitch new products and services to payors and providers. Design Coup finds that these Flash Demos hit the right balance of graphic impact and easy-to-view bandwidth. A study by Manhattan Research concurs. It found that Web-based Flash animations deliver the highest response rate for e-detailing (3). What's more, 76 percent of doctors find online detailing useful and convenient, according to Jupiter Research (4).
"We have found a consistent formula with our Flash Demos," explains Bruce Miller, a Design Coup principal. "A.) No more than three minutes length, B.) Communicate through solid animation & soundtrack design, and C.) Use video statements from key stakeholders to reinforce the message."
The key to e-detailing is to motivate the click-to-view. "We have sent mailers offering a free Starbucks card and other incentives to view a presentation," explains Higgins. "We've even sent out free digital picture frames preloaded with PowerPoint presentations. The recipient must view the presentation before he can load his own family photos to the frame."
E-detailing is not limited to pharmaceutical companies. Implantable Provider Group (IPG), a surgical device management company, and WebOps, a medical logistics firm, both used Flash Demos coupled with Starbucks offers to launch new lines of business.
"You wouldn't expect a busy executive to be compelled by a free Frappuccino," explains Alex Kucera, VP of Sales for WebOps, "but it's a great trade-off. Give me three minutes of your time and by the way, enjoy some free coffee on us."
"Most importantly," adds Michael Jones, Chief Operating Officer for IPG, "we get the user's contact information right after they view the demo. This sets up a seamless invitation to continue the sales process with the decision maker."
E-detailing uses the power of multimedia to distill a complex message into a quick, scripted production – making it ideal for launching new products and simplifying difficult concepts.
"We recently launched Premerus, a completely new approach to improving diagnostic accuracy," explains Steve Janicak, Senior Vice President, Sales & Marketing, for MedSolutions. "Introducing a new concept is tough when there's no comparable product in the marketplace. Our Flash Demo quickly shows how misdiagnosis drives costs and the value we bring to the diagnostic process."
MedSolutions found itself in another tough situation when a big account they were pitching extended the bidding period. "This allowed a key competitor to pitch several weeks after us," explains Janicak. "We created a Flash video of our top sales person giving a personalized, executive summary of our pitch. We emailed the link right before the closing bell and became 'top of mind' again. Best of all, we won the business."
When it comes to using electronic detailing effectively, Manhattan Research listed the top five characteristics:
1. Keep it short (less than 5 minutes)
2. Make it Web accessible 24/7
3. Include fresh information
4. Use interactivity or self-guided learning
5. Offer an incentive
"These are obvious requirements," explains Design Coup's Bruce Miller. "But since 2004 when this list was first created, the Web has moved from the desktop, to the laptop, and now, to your pocket. As a result, Web information has become ubiquitous. This creates a new number one, a new challenge – and that is to make your sales pitch absolutely compelling. People have only so much time. You have to do the creative work to ensure that your communication delivers real value."
About Design Coup – Design Coup, an Atlanta-based marketing firm, creates marketing/design communications for leading healthcare organizations, franchise systems, and new business ventures. Located in Atlanta, GA (Decatur), Design Coup has been in business since 1998. For more information about Design Coup, visit DesignCoup.com.
(1) SK&A Information Services study, as reported in "The Gatekeepers' New Rules," PM360Online.com/f3_0509.
(2) Health Strategies Group, as reported in, "Changing the Face of Detailing," Product Management Today, November 2003.
(3) Manhattan Research, "Big Changes Ahead for Technology-Based Pharma Detailing," November 10, 2004.
(4) Monique Levy, Jupiter Research. Online Marketing to Physicians: Evaluating Physicians responsiveness to Online Detailing. September 1, 2005.
###