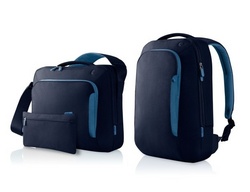 We are collaborating with technology and fashion leaders to create complementary bags and accessories that offer Dell customers unique ways to express themselves
ROUND ROCK, Texas (PRWEB) July 14, 2008
Launched in June, Dell Studio laptops come in standard Jet Black and six optional color choices: Plum Purple, Tangerine Orange, Flamingo Pink, Midnight Blue, Ruby Red and Spring Green. For a more subtly personalized laptop, a high gloss Graphite Grey version can be customized with contrasting black, blue, pink or red edge trim around the display back.
"We are collaborating with technology and fashion leaders to create complementary bags and accessories that offer Dell customers unique ways to express themselves," said Andrea Kalmans, Dell Accessories Product Manager. "Whether you're at home or in your favorite spot to see and be seen, Designed for Dell products reflect your style."
Current Designed for Dell manufacturers include:
Belkin: Backpacks and messenger cases Built: Computer sleeves, cargo bags and portfolios Creative Labs: Headphones and speakers Iomega: Portable hard drives Logitech: Mice Swiss Gear: Backpacks Targus: Messenger cases and accessories bundles "Built loves to wrap laptops with color, and we make them safe and easy to carry too. The team at Dell developed a great program with fantastic colors and powerful new laptops that we are psyched to be a part of," said Built Co-CEO and Chief Design Officer John Roscoe Swartz. "It capitalizes on both of our strengths and as a result I think the collaboration is greater than it parts."
"Designed for Dell" products currently are available in the United States, Canada and Europe.
Links to:
http://dell.com/DesignedforDell
http://www.builtny.com/showPage.php?pageID=1598
http://www.avenuesinleather.com/wenger/
http://www.logitech.com/index.cfm/home/&cl=US,EN
http://www.iomega.com/global/index.html
About Dell
Dell Inc. (NASDAQ: DELL) listens to customers and delivers innovative technology and services they trust and value. Uniquely enabled by its direct business model, Dell is a leading global systems and services company and No. 34 on the Fortune 500. For more information, visit http://www.dell.com, or to communicate directly with Dell via a variety of online channels, go to http://www.dell.com/conversations. To get Dell news direct, visit http://www.dell.com/RSS.
Dell is a trademark of Dell Inc.
Dell disclaims any proprietary interest in the marks and names of others.
MULTIMEDIA GALLERY http://www.businesswire.com/cgi-bin/mmg.cgi?eid=5729628