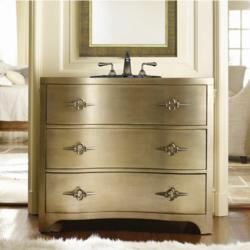 . Having a reflective surface in a bathroom plays great visual tricks on the eye and can help add gorgeous visual complexity to the room, even if the surfaces themselves are relatively simple.
(PRWEB) August 01, 2012
HomeThangs.com – the Home Improvement Super Store has made their goal to deliver the right product to the consumer, with that in mind, shopping and home design tips, as well as special product selections are being introduced.
HomeThangs introduced a line of bathroom vanities with metallic accents to suggest more flexibility for creative modern bathroom design. Designers at HomeThangs give some tips on how these vanities can be incorporated in the bathroom décor.
1. In a piece of furniture that has a strong tradition of being made exclusively of wood, even small metallic accents can elevate something relatively ordinary into something with designer quality to spare. Jamestown Vanity by Cole+Co is a good example. Without the metal insets, it's a rather average modern bathroom vanity. But the mirrored metallic drawer fronts add a dimension of depth that puts is solidly in the realm of designer bathroom vanities. Having a reflective surface in a bathroom plays great visual tricks on the eye and can help add gorgeous visual complexity to the room, even if the surfaces themselves are relatively simple.
2. Silver Vanity from Legion Furniture, for example, adopts a fairly traditional antique form, but then turns the design on its head by covering a rather traditional oak body with silver foil. The luxurious metallic finish takes this vanity entirely out of the realm of the expected, and turns it into an excellent focal point for a highly designed bathroom.
3. With a little detail added to the reflective surfaces, like setting them at a variety of angles, a more dramatic effect is conveyed. New Hollywood Vanity from Cole+Co for example, adopts a rather traditional form, but the reflective surfaces make it more abstract and slightly jarring. From a design standpoint, this is a good choice for a stark black and white bathroom, a modern take on a vintage style.
4. Metallic accents on designer bathroom vanities can be a little more subtle, too. For example, Natasha vanity from Decolav is modern from head to toe without any metal accents at all, from the minimized silhouette-cutout legs to the tiger-striped wood paneling. But the belt-like handle on the front drawer is the perfect finishing touch, adding just a hint of masculine, industrial steel to an otherwise very delicate vanity. The contrast is creative, eye catching, and a great design compromise to balance out the feel of a master bath.
5. Metallic accents are common in designer bathroom vanities, if only because they're incredibly flexible and play well with other materials. For example, Jakarta Vanity from Sterling is much more traditional, but has a sleek, glossy modern finish that makes it an excellent choice for a designer bathroom. Here, the metallic accents act like the leaded seams in a piece of stained glass, only instead of framing glass, they frame lustrous, honey-toned stone. The design is simple but utterly sophisticated – definitely a piece to build a bathroom around.
6. Not only do various metals play well with other materials when it comes to bathroom vanities, but they're also quite versatile on their own. Even a single type of metal can come in a variety of finishes, and with a wide range of techniques for etching, aging, bending, shaping, staining, or otherwise altering the appearance and shape of metal, even a single sheet can be finished with an amazing variety of two dimensional patterns and three dimensional shapes. The Addison Vanity by Cole And Co is a stand out example, with nine raised drawer faces in three distinct patterns, all made out of the same satin nickel.
HomeThangs.com is not only a home improvement superstore, it also provides expert design tips and a comprehensive shopping guide, taking the ideas from professional interior designers, and offering tips to the consumers on how to pick the products to best suit their needs.