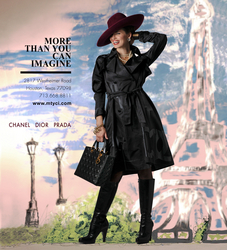 You don't always have to spend a million bucks to look like a million bucks. Smart, savvy shoppers know where to get designer duds at not so designer prices
Houston, TX (PRWEB) March 10, 2011
Lovers of fashion and all things trendy and couture now have a new place to shop online. Designer consignment boutique in the Houston area, More Than You can Image, recently opened its doors via cyberspace at mytci.com. Shoppers no longer have to beat others to the door to find significant savings on couture, fresh off the runway items. They can now shop online and still get the same great deals.
MTYCI.com has an array of high end items, a fusion of consignment and retail, available. Bath and body products, candles and fragrances, children's items (toys, books, and clothing), home accessories, jewelry, men's clothing, and women's apparel are available for sale at this new ecommerce store. More Than You Can Imagine has something for everyone. Despite being a designer boutique, MTYCI.com is still affordable with merchandise ranging from under $50 to higher end prices. It's the jet setter's secret: great prices and couture products.
"You'll never know what you're going to find, but you're going to love it when you do!" states Vicki Rizzo, owner of More Than You Can Imagine.
The "Just In" section of this online designer boutique is available to all customers, online and off. If you see it there it's in the store but also available online. Patrons don't have to rush to get the store, they can order right away. Items like designer sunglasses, wallets, belts, purses, jewelry and more are available. But once they sell, they're gone for good.
"Now you'll never regret not being able to get to our boutique quickly enough to claim that Classic Chanel handbag you've been dreaming of--it's yours with a click of a button!" continues Rizzo.
Because merchandise does sell quickly, patrons are encouraged to check back often with this designer consignment boutique. Online and offline, the same items at the same great prices can be found. Merchandise sells quickly.
More Than You Can Imagine is a high end resale shop. When patrons grow tired of particular pieces, they can bring in gently used articles for consignment. This what makes More Than You Can Imagine so affordable.
"You don't always have to spend a million bucks to look like a million bucks. Smart, savvy shoppers know where to get designer duds at not so designer prices," continues Rizzo. "More Than You Can Imagine is the jet setter's secret for a reason—we're the best place to find great couture items."
To shop now at More Than You Can Imagine designer boutique online, visit MYTCI.com.
About More Than You Can Imagine
For over 25 years, Vicki Rizzo has been helping men and women look and feel their best at her designer boutique, More Than You Can Imagine. Located in Houston, Texas, this designer boutique is now online, providing high end consignment fashion apparel, distinctive footwear as well as new accessories, gifts, and more.
###