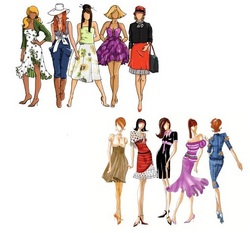 Fashion trends: inspired minds create them, uninspired millions follow them blindly and enlightened few don't ignore them.
New York, NY (PRWEB) March 18, 2011
Designer clothing is particularly susceptible to seasonal trends of fashion.
And indeed, even though it's considered silly and distasteful to dress excessively trendy, one would be a fool to ignore the trends completely. Wearing designer clothing is in itself believed by some to be automatically trendy. But this is a regretful misconception.
As a designer clothing shop PrimeRunway.com has stepped onto a path of educating the masses about the proper use of fashion trends. Our first and most important advice for now will be to approach the trends as if they were seasonal accouterments to your unique personal style. The most secure route with designer clothing is probably to dress trendy enough so as not to appear ignorant of the trends and not a bit trendier than that. With that in mind, here is the PrimeRunway.com list of top 9 designer clothing trends for spring-summer 2011.
1. The '70s are back. Bright colors, platforms and even jumpsuits will be very hot this upcoming season.
2. Neutral colors and monochromatic looks are also going to be very much in style especially combined with one bright item.
3. Women's designer clothing is going to be all about wide-legged pats with high waist and layering with sheer fabrics.
4. Faux fur is very "now" this season.
5. Men's designer clothing (as well as ladies designer clothing to a certain extent) will be very much inspired by biker style. A biker leather jacket is a must have for every man this spring. Likewise,
leather biker-inspired accessories and shiny buckles have made a return.
6. Prints and stripes have also been prominent in many definitive 2011 collections.
7. High heels will not be extremely popular. Instead, women will tend to wear comfortable flat-bottom shoes or platforms.
8. While belts for women are going to be in great demand, there is a very palpable trend in menswear towards going beltless this spring and summer.
9. Also, in men's designer clothing, shorts will be very contemporary this summer.
For more information on our publications and to learn more about 2011 designer clothing trends please visit PrimeRunway.com.
# # #