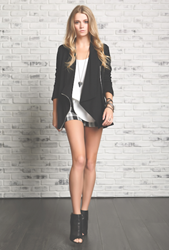 Houston, TX (PRWEB) November 19, 2014
French Cuff Boutique, a women's apparel and accessories boutique located at 6401 Woodway and 4048 Bellaire Blvd., invites their customers to the Red23 Trunk Show from 10 a.m. to 6 p.m. on Thursday, Nov. 20 and Friday, Nov. 21. Guests at the show will have the opportunity to shop new arrivals from the AW14 collection with a pre-spring 2015 preview.
Red23 provides a distinct concept for a cluttered world. Solid lines, geometric shapes and unexpected prints give Red23 its characteristic style. Initially conceived as a knit top line, the brand has since evolved into a collection of luxuriously casual favorites. The collection fuses luxe elements with causal silhouettes for a look that is clean and sophisticated. Superior quality and a belief in simplicity give Red23 its refined edge.
To learn more about the Red23 Trunk Show and French Cuff Boutique, contact Rachel Duncan at 713-334-4900 or Rachel(at)frenchcuffco(dot)com.
About the company:
French Cuff Boutique is a gem of a women's apparel and accessories boutique. It is the embodiment of founder Kairy-tate Barkley's vision of providing a personal, convenient and stylish shopping experience in an intimate neighborhood setting. Opened in July 2008 at the crossroads of Houston's West University Place and Bellaire neighborhoods, French Cuff Boutique's clientele enjoy access to designer labels that are current and timeless, a chic and inviting décor, expert personal service and an accessible location.
Whether visiting French Cuff online or at one of its locations, the fashionable woman will find a full range of designers and price points to express her personal style for any occasion, from the business arena to a night on the town to that special community or social event.
French Cuff is open from 10 a.m. to 6 p.m. Monday through Friday and from 10 a.m. to 5 p.m. Saturday. Visit http://frenchcuffco.com/ for more information.
6401 Woodway, Ste 127 Houston, TX 77057
(p)713.334.4900 (f)713.334.4901
4048 Bellaire Blvd Houston, TX 77025
(p)713.665.3336 (f)713.665.3337