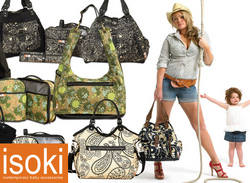 This is why we came up with our innovative range of products.
Denver, CO (PRWEB) July 8, 2009
Australia's Award Winning Chic Diaper Bags Are Now Available in the United States at http://www.isokiusa.com, these sought-after baby bags are popular with mom's thanks to a very clever design and the modern styles coordinating each 4 piece diaper bag set.
Isoki introduced the popular Reversible Baby Bag to Australia in 2007 and have established themselves as a leader in the baby bags and accessories market by offering ideas and practicality never before seen in a diaper bag.
"We are very passionate about mothers, and parents in general, not having to forgo their individual style and independence," said Toni Startari, co-founder of Isoki. "This is why we came up with our innovative range of products."
Isoki's Chic Diaper Bags come in three different styles. The baby bag, the hobo bag and the saddle tote bag. While each unique style share similar features, the baby bag includes a zip-off bottom for extra storage.
The baby bag is generous enough to carry everything a baby and mother may need. Plus, inside each bag is a coordinated double-sided storage satchel, insulated cooler bag and large padded change mat that can be removed and used independently for those quick trips to the shop.
Other features of these versatile diaper bags include an adjustable shoulder strap, six large accessible pockets and metal feet to protect the base from hard or wet surfaces.
However, the show stopping attribute of the Isoki baby bag is it's 2 in 1 reversible feature - giving mom's a wider choice of styles for casual fun or conservative flair.
The Isoki product range of elegant, yet practical, parenting bags from Australia are now available online at http://www.isokiusa.com and are wholesaled exclusively to baby specialty stores, boutiques and lifestyle stores throughout the United States.
About Isoki:
The word Isoki is derived from and African word meaning, 'a beautiful gift.'
The three founders of Isoki have a collective balance of industry experience in modern fashion design, textiles and manufacturing - which have enabled this hip young business to rapidly expand their product offerings world-wide.
Isoki's collection of parenting products stands apart from competitors with the unique concept of 'The Reversible Parenting Bag ' - never before seen in a diaper bag.
###