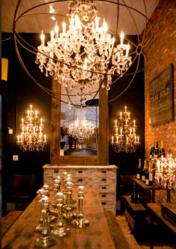 The Designer Discount Program was created with a goal of providing a professional design resource offering to-the-trade discount incentives with excellent customer service
Atlanta, GA (PRWEB) May 19, 2011
As a member of the new home decorating Designer Discount Program, qualified interior designers and home decorators will receive exclusive promotional pricing and discount offers from Peace, Love and Decorating to preview newly introduced home decor, vintage inspired wall decor, unique home accessories, high-end home lighting from top lighting manufacturers such as Currey and Company Lighting, and a huge selection of affordable area rugs from leading home rug designers Thomas Paul and Amy Butler both from Chandra Rugs. In the third quarter of 2011, PLD will introduce exclusive discounts on a number of high-end boutique furniture manufacturers. Design professionals at Peace, Love and Decorating specialize in assisting other interior design and home decorating professionals with their client needs and budgets while offering discount incentives with each order placed.
With designer discounts starting at 10 percent, interior designers are offered an increase in discounts as accumulative totals in home decor purchases reach certain levels. Once designers reach $10,000.00 in home decor purchases, their designer discount award will increase to 15 percent. These special to-the-trade discounts are in addition to the up to 35 percent savings that Peace, Love and Decorating currently offers on their top interior home products. As designer discounts increase, members of the Designer Discount Program gain more flexibility in completing their client's home decorating job within their budget.
Atlanta based Peace, Love and Decorating co-founders Jana Contardi and Jennifer Cook implemented the Designer Discount Program understanding the need for greater home decor resources among the established interior designers in the "to-the-trade" world and to help new budding interior designers and home decorators with their careers by offering top lines in home lighting fixtures, home decor and home accessories at discount prices.
"As interior designers, we want to support other designers by offering to-the-trade discounts and pricing incentives to assist with their project needs," said Cook. The designer pair is especially excited to offer designer discounts on Currey & Company Lighting and Home Furnishings as one of the "to-the-trade" high-end lines. "The Designer Discount Program was created with a goal of providing a professional home decorating resource offering "to-the-trade" pricing incentives with excellent customer service," adds Contardi.
To apply to the home interior Designer Discount Program, interior designers and home decorator can email or fax their credentials including a copy of a current resale tax number and business card. Please refer to http://www.peaceloveanddecorating.com for more information on this exciting new Designer Discount Program.
###