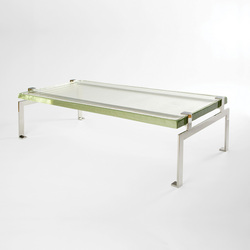 "[Michael S. Smith] has selected our signature Jewel Coffee Table for both of these projects, which speaks to the quality and design of the Magni Home Collection line."
Los Angeles, CA (PRWEB) February 11, 2011
Renowned interior designer James Magni received highest honors when Michael S. Smith chose his Jewel Coffee Table for use in the White House renovation. Moreover, Architectural Digest's March 2011 edition features Magni's table in a high-end Manhattan apartment with luxurious interior designs also by Michael S. Smith. Magni's modern furniture line, The Magni Home Collection, can be found at MagniHomeCollection.com.
The Jewel Coffee Table captures Magni's modern furniture style. A contemporary piece from the Magni's Home Collection, the featured piece is a satin finished bronze table with 24 carat gold leafing under 2 inch tick hand cast glass. It is also available in polished stainless steel, satin stainless, and polished bronze. The Jewel concept arose from Magni's collaboration with a glass sculptor, giving it a sense of European glamour and craftsmanship. Placed within the design of the living room within the Manhattan apartment, Magni's contemporary coffee table represents the modern style in Michael S. Smith's neoclassical vision.
"Being on the cover of Architectural Digest and also being the interior designer of the White House, Michael S. Smith is one of the countries most influential designers," said James Magni. "He has selected our signature Jewel Coffee Table for both of these projects, which speaks to the quality and design of the Magni Home Collection line."
Magni's modern furniture line gains further popularity across the US with a new installation in the Ryan Hughes Showroom, which is located in Atlanta, GA. However, the excitement doesn't stop in Atlanta as the Magni Home Collection enters the coveted Thomas Lavin showroom in Los Angeles as of March, 2011. Look for Magni's new lighting line coming soon.
Like William Baldwin, Jean-Michel Frank, Christian Liagre, and many other acute visionaries of their time, James Magni was unable to find particular items for his immeasurable opulent projects. The designer created the Magni furniture collection in 1996. What began as a few pieces has successfully grown into a highly coveted ensemble like that of an expertly curated art collection. The iconic collection is exquisitely crafted using the world's most luxurious fabrics, woods, metals and finishes resulting in the ultimate expression of modern elegance. The Magni Home Collection is seen in many private homes around the world and on the pages of Los Angeles Times, New York Times, The Robb Report, Town & Country and Architectural Digest. To view the collection online, visit http://www.MagniHomeCollection.com.
# # #